Lisburn artist finds untapped artistic talent in Kenya
by JULIE-ANN SPENCE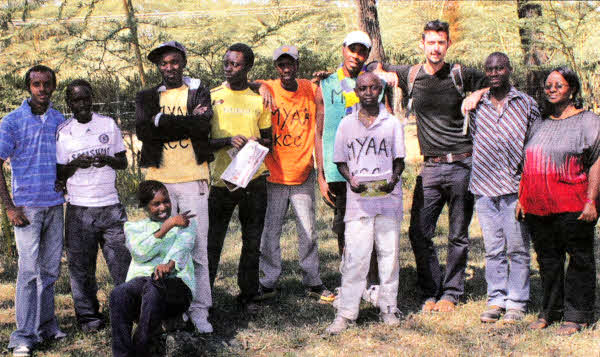 Lisburn artist Clinton Kirkpatrick with members of MYAA - Malewa Youth Aids Awareness
LISBURN artist Clinton Kirkpatrick has been putting his artistic talent to good use by helping young people in the KCC slum in Kenya to get in touch with their creative side.
Clinton, who is on a six week placement in Naivasha, has been working with a newly formed group of young people who call themselves 'Melewa Youth Aids Awareness, who are involved in outreach work to help those affected by AIDS and HIV.
As well as the outreach work, Clinton has been running art workshops in the afternoons and he has been astounded by the artistic talent he has uncovered.
"I never really knew what to expect here," said Clinton, who will be in Kenya for another two weeks. "I had organised to come and work on a HIV placement. That was all I knew so what lay ahead of me was a complete surprise.
"I got placed, on the Monday after I arrived, to KCC Slum in Naivasha which is about two hours away from Nairobi. I learnt when I arrived that I would be working with a new group in the slum which had literally just formed. The week before I arrived they undertook training in HIV/AIDS awareness.
"What is most fascinating about this group is that they are all young aduites who have a genuine interest in learning how to outreach and help other people.
"It is early days with the group but already I have seen so many strong and powerful characteristics in many on the young people. I have only been here four weeks but I would already call many of them my friends."
He went on to explain: "I have helped them write projects for a Medical Camp which took place on May 21 and also for a schools' program to run over a number of weeks. That began on May 24 and I was amazed at how the group preformed and led the session with the Marula Primary School.
"The room was jam packed with kids and MYAA took charge and led the session with great admiration and respect. It was hard to believe that it really was the first time they had delviered a session."
Clinton is hoping to help the group even when he is back home in Lisburn and is already planning to return to Kenya again.
"I want to continue working with the group even though I won't be in the same country," he said. "If I can help in any way I would like to. I am even thinking about coming back maybe next year for a couple of months.
"As well as working with MYAA, I have also started taking drawing classes. This has been the biggest surprise. There are three natural artists whom I am teaching. They have just never had the experience of it before. It is amazing to teach young aduites who have listened to everything I have said and took it on board to create individual wonderful drawings in less than two weeks.
"Now I just wish I could be here longer to teach them basics of painting. Perhaps that will have to wait till the next time I come back.
"This place is fascinating and I have made a number of great new friends in Kenya," he added.
julieann.spence@ulsterstar.co.uk
Ulster Star
03/06/2011