Don't die of embarrassment warns Ballinderry man
by MARY MAGEE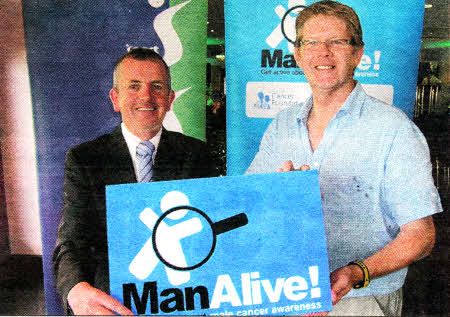 Gerry McElwee (left), UCF's head of Cancer prevention, with Colin Donaldson.
A BALLINDERRY man who survived prostate cancer is urging men to 'get over their embarrassment' and go to their doctor early.
Colin Donaldson (54) believes that early detection helped save his life. Colin was diagnosed with prostate cancer in March 2009 after a bout of tiredness.
During Men's Health Month, the Ulster Cancer Foundation (UCF) is working to raising awareness of preventable health problems, advising on how to reduce the risk of getting cancer, helping men recognise the warning signs and urging them to seek early detection and treatment.
Colin explained: Over Christmas 2008 I had some back pain and I felt abnormally tired. I was also experiencing problems when urinating - I felt a real urgency to go to the toilet but when I did, passing water was slow, there was no pressure and it felt like my bladder still wasn't empty. After a month or so I decided to see my doctor as I suspected that I might be diabetic. After discussing my symptoms he took a PSA test and did an internal examination. It was really embarrassing but I knew it was important to get to the crux of the problem."
The doctor revealed that Colin's prostate was enlarged and he suggested that Colin return for a second PSA test in a month's time. However Colin did not return and only went back to his GP when he hurt his back.
"I had to see my GP for treatment then," he said. When I was there he did the second PSA test and, although the results were not abnormally high, I was referred to Craigavon Area Hospital for further investigation.
"I had another internal examination, a PSA test and a biopsy which was a bit uncomfortable. They took '13 cell samples and the results showed I had prostate cancer in 11 of these cells. Of course it was a huge blow, but to be honest, I wasn't devastated by the news. I was focused on my treatment and how we could get rid of the cancer. My wife Wendy prepared for the worst but together, and with the support of our three children, we got through it."
After a few weeks recovery the CT scan showed that the cancer was contained in the prostate and it hadn't spread.
"My consultant discussed different treatment options and it was agreed that I would have surgery on Friday, September 25, 2009," he said.
"He was very thorough about the side effects and that was a huge comfort to me and my family as we had a better idea of what lay ahead.
"Although I had some complications following surgery, it was just a few months until I was back on my feet and able to drive again. Even though I had prostate cancer I feel lucky as I had a lot of help from Wendy and my children during my cancer journey.
"Jenny McMahon, a cancer nurse at the Thorndale Unit at Craigavon Area Hospital, was very understanding and helpful throughout my treatment and even now she is still a great support. My employer, BT, was also hugely supportive and reassuring during this difficult time which was a huge weight off my mind."
After his treatment Colin attended UCF's prostate cancer support group at Craigavon Area Hospital.
"You can learn a lot from others who have been through a similar situation and pick up new hints and tips to help deal with the after effects of the disease such as incontinence, impotence, weight gain and depression," he said. "There are challenges still to face but I have now returned to work and I am optimistic about the future. I would encourage any man who is experiencing similar symptoms to go to their GP right away and talk openly and honestly about your body. Early detection really does save lives!"
According to the Ulster Cancer Foundation Northern Ireland men too often drag their feet when it comes to seeing their doctor, yet many cancers can be successfully treated if diagnosed in the early stages.
As part of its Man Alive campaign, UCF goes into workplaces to make it easier for men to access health messages and checks. Pro-active employers are also playing their part by inviting UCF to their offices, factories and construction sites. In the last nine months UCF's ManAlive Campaign has taken health programmes to 25 local workplaces, supporting 1,250 employees.
Among the free services UCF offers are workplace smoking cessation programmes (for women too, PACE (Physical Activity and Cancer Engagement), a 12 week physical activity programme, and a 30 minute Male Quick Fit version.
UCF also operates a unique mobile unit, The Man Van, which gives men in rural areas one-to-one information and advice, from how to stop smoking, to weight management, taking care in the sun, helping them reduce their risk of cancer and advice on the early signs and symptoms of cancer.
For more information about the Ulster Cancer Foundation log on to www.ulstercancer.org, email infocis@ulstercancer.org or call 9066 3281. UCF freephone helpline, 0800 783 3339.
Signs and symptoms of prostate cancer may include: Experiencing difficulty or pain when passing urine, passing urine more frequently, especially at night, dribbling, a feeling of not completely
emptying your bladder, back pain and blood in in your urine UCF is challenging men across Northern Ireland to Shave or Dye their hair to raise funds for this year's men's health campaign. The charity is asking offices and workplaces such as pubs, hair salons and sports clubs as well as individuals to get involved in the event, supported by BT. If you would like to join in the fun or make a donation, log on to www.ulstercancer.org/shave-or-dye or www.facebook.com/shaveordyeni. Email Sarah at sarahatcheson@ulstercancer. org or call 9068 0765 for more details.
Ulster Star
01/07/2011