Lisburn principal is tipped for top Gospel music award
by JULIE-ANN SPENCE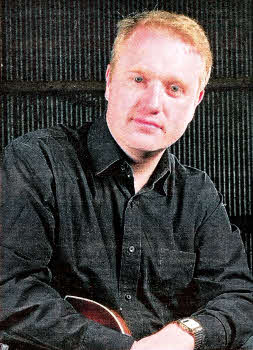 BROWLNEE Primary School certainly is alive with the sound of music these days. Not only does the school boast a choir, orchestra and a large number of solo instrumentalists and singers, but now the school's Principal has been nominated for one of Gospel Music's top honours. Colin Elliott has been Principal of Brownlee for over 12 years. However, in his spare time he is a member of the UK's top Country Gospel band, Live Issue, as well as being a part-time record producer.
In 2009 Live Issue was the first group from Ireland, and only the second from Britain, ever to play the Grand Ole Opry in Nashville Tennessee. In addition Cohn was invited to perform again at this world famous venue in July 2010 during a solo tour of the United States.
Last year he produced a landmark album of Gospel duets for George Hamilton IV. The album was the brainchild of Lisburn man, Samuel Purdy, who assisted with much of the preproduction work on the album. Samuel, who is renowned as an authority on Gospel music, is also a member of Live Issue and his daughter Lydia is a pupil in Brownlee.
The album, which Colin recorded and produced for George Hamilton IV, also featured Lisburn men Ivan McLearn on steel guitar and Derek Norwood on banjo / mandolin. The rest of the backing music was performed by Colin and the members of Live Issue.
The double album entitled 'Old Fashioned Hymns and Gospel Songs for Those Who Miss Them!' was launched in Nashville back in July 2010 by Lamon Records and it has now been recognised by the Gospel Music Association by receiving a final nomination for a prestigious Dove Award.
The album features duets with legendary artists from the world of Country and Gospel music including Ricky Staggs, Marty Stuart, Connie Smith, Charlie Pride, Bill Anderson, Charlie Louvin, Pat Boone, the Whites, George Beverly Shea, Buddy Greene, Joanne and Tommy Cash. The project took over a year and a half to record and was truly a 'trans-Atlantic affair' with many of the artists recording their vocal contributions in America and sending them to Colin to be edited, mixed and inserted into the master recording.
"It was a very humbling and quite a daunting experience to have been put in charge of such an important and complex recording, but I can honestly say that I enjoyed every minute of it," said Colin.
"The recording itself was challenging and there had to be a huge amount of preparation work, especially organising keys for each singer and liaising with all the artists in America with regard to their song's musical arrangement and how I wanted their vocals recorded.
"Everyone involved was lovely to work with and each artist, engineer and musician gave freely of their time and expertise to make this a very remarkable and unique recording."
The awards ceremony will take place during April at the famous Fox Theatre in Atlanta and Cohn will be flying out to be present. He will also be singing in church venues throughout Florida, Georgia and Alabama before heading to Nashville to be an invited guest at the Grand Ole Opry and appear at the Nashville Cowboy Church along with Joanne Cash, sister of the legendary Johnny Cash.
"The question I am often asked by people is how I ever find time to be a school Principal, a singer, record producer and a family man" Colin said. "It sometimes can be very demanding however, due to my busy singing schedule I can only record from time to time and the project with George IV was unique and all of us involved were very aware that we were creating a little piece of recording history.
"I have a very understanding wife and family and without their support I couldn't be involved in music ministry at this level."
julieann.spence@ulsterstar.co.uk
Ulster Star
15/04/2011