Crumlin man's invention to help greyhounds run faster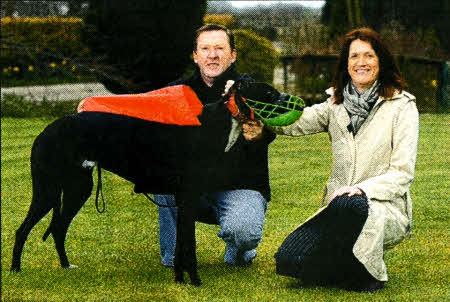 Michael McPeake, Windflow Managing Director, with Ollve Hill, Invest NI's Director of Technology and Process Development
A CRUMLIN man hopes to race to success with his innovative idea to help racing greyhounds run faster.
Windflow, a business set up by Michael McPeake, is being assisted by Invest Northern Ireland to develop a tailored windsock which is made from nylon and neoprene and enables trainers to enhance the training regime by adding a coat to assist the animal maximise its performance,.
Mr McPeake explained: "Windflow offers an innovative product that the trainer can use to bring a dog to peak performance in a gradual and controlled way.
"Greyhound racing is a major global sport offering enormous potential for Windflow. There are substantial opportunities in the UK, Republic of Ireland and other international markets such as Australia. The next stage will be to conduct some further scientific tests and set up an e- commerce website to sell the coats worldwide."
The company was formed last year and was developed with advice and assistance from the University of Ulster, a collaboration facilitated by the Invest NI The Innovation Voucher scheme.
Mr McPeake, who has extensive experience in the rehabilitation of dogs from muscle injuries, and
spent three years developing the product, said: "Advice and practical support that I've received from the University of Ulster through the Innovation Voucher programme has been immensely beneficial. It has helped me to perfect the design of the coat and to successfully conduct initial tests."
Olive Hill, Invest NI's Director of Technology and Process Development, said: "The Innovation Voucher scheme was introduced to help businesses to develop innovative solutions to business issues, in this case turning an idea into a viable product with export potential.
"Windflow used the voucher to team up with experts at the University of Ulster for help in designing and assisting the initial trials of a drag inducing windsock/coat that trainers can use when working with greyhounds. Assisting small companies to collaborate with universities and colleges throughout Northern Ireland and the Republic of Ireland in the development of innovative products is a key feature of the Innovation Voucher programme.
"The programme offers small enterprises £4,000 towards the costs of such collaboration over a period of 12 months, which we hope will lead to ongoing development opportunities. Windflow, for instance, has been able to draw on the university's design and scientific expertise to develop the coat and to ascertain the drag coefficients required to improve the design and effectiveness of both the windsock and coat."
Ulster Star
13/05/2011