Darren becomes a firefighter for the day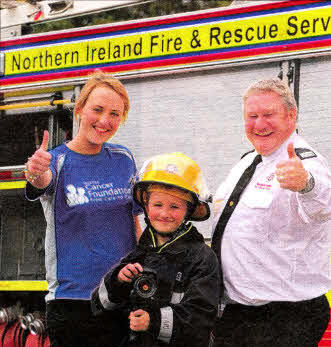 Station Commander Nick Thompson, Northern Ireland Fire and Rescue Service and Jan Caldwell, Cancer Prevention Assistant, Ulster Cancer Foundation pictured with Darren Dumigan, from Harmony Hill Primary School
A HARMONY Hill pupil swapped his school uniform for a firefighters outfit when he became a firefighter for the day. Darren Dumigan found out what life was like as a firefighter with Northern Ireland Fire and Rescue Service (NIFRS) when he joined firefighters on Monday June 20 after he won a 'Smokebuster' poster competition.
His poster 'A Smoke Free Home' was chosen as a winner and the competition was organised by the Ulster Cancer Foundation (UCF) in conjunction with NIFRS aimed at raising awareness among primary school children about the harmful effects of smoking and the associated fire risks of smoking materials in the home.
Darren got to experience drills and displays with firefighters during their training sessions and even got to own his very own firefighting kit with a special escort in a fire appliance.
It also involved a tour of NIFRS Regional Control Centre at their Headquarters in Lisburn where he got to see how real life 999 emergency calls are handled. He also got to meet a number of NIFRS Specialist Rescue Teams.
Darren said that it was a day that he will never forget.
"It was a brilliant day and my favourite part was helping the Firefighters cut up a car when they were training," he said.
Dale Ashford, Assistant Chief Fire Officer, Northern Ireland Fire and Rescue Service congratulated Darren on winning the Smokebusters competition.
"Darren's poster highlighted the very real danger and fire safety risks associated with smoking rn the home," he said.
"Unfortunately, last year smoking materials caused 117 accidental fires across Northern Ireland which resulted in tragically 1 fatality and 23 casualties.
"Our partnership work with the Ulster Cancer Foundation provides us with an ideal opportunity to engage with Primary School pupils and to make them aware of how easily fires can start in the home from smoking materials such as cigarettes, cigars, pipes, ashtrays and matches.
"It also enables us to install good fire safety habits in the youngsters from an early age which hopefully they will carry with them through their teenage and adult lives."
"It was a pleasure having Darren, and his father, join us.
"We hope he got a good insight into life as a Firefighter and who knows, maybe someday we will see him on a Fire Appliance for real."
Judith West, Cancer Prevention Officer, Ulster Cancer Foundation said: "Ulster Cancer Foundation is delighted to be working with NIFRS on this year's Smokebusters club competition.
"We are grateful to them for providing such a fantastic prize. This has been a great way to highlight the very important message of smokefree homes to our 29,000 members in primary schools across Northern Ireland.
"Breathing in someone else's cigarette smoke is part of daily life for some local children, but through our Smokebusters Club we emphasise the benefits of staying smokefree and the importance of avoiding secondhand smoke.
"Many congratulations to Darren, whose prize-winning design conveys our smokefree homes message so brilliantly."
Ulster Star
05/08/2011