Lisburn teacher gets byte of top Apple award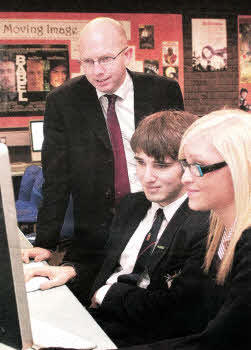 Wallace High School ICT Co-ordinator David Cleland has been awarded the Apple Distinguished Educator status.
A LISBURN teacher is a among a select group who have been given Distinguished Educator status by the giant technology company Apple.
Wallace High School's ICT coordinator David Cleland is one of only 25 people in Europe to be awarded this title in 2011 in recognition of his commitment to using educational technology to improve teaching and learning.
In his role David will work closely with Apple to lead innovation in education.
"I will be working with educators and policy makers from across the world, exploring ways in which new technology can help engage students as well as advising Apple on the realities of integrating technology into learning environments" he explained.
"We are at a very exciting time in education, with ICT offering so many prospects in develop learning experiences. Here in Wallace we have a well established Virtual Learning Environment (VLE) and our
pupils have opportunities to explore innovative ways of learning through technology such as flip cameras and interactive whiteboards."
He continued: "Being named as an Apple Distinguished Educator is a real honour and adds to what has been a very exciting month. I'm happy to say that I've just been appointed Vice Principal here in Wallace and am looking forward to the challenges which my new post will bring in September.
"Little did I think when I was a pupil twenty years ago here at Wallace using BBC micro computers that I'd be appointed as Vice Principal in such a technologically exciting time."
Principal of Wallace, Mrs. Deborah O'Hare, said: "It is wonderful to see David's expertise being recognised on a worldwide scale. We are fortunate to have him as part of our leadership team here in Wallace and we look forward to an exciting future of technological developments."
Ulster Star
29/04/2011