One man, one lough, one day
by MARY MAGEE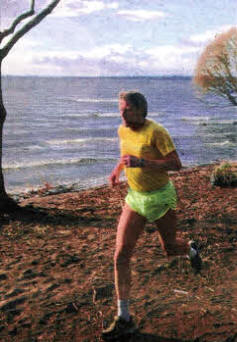 'One man, one lough, one day' - that's the motto of 56 year-old Crumlin man David Flowerday as he takes to the roads to raise money for Meningitis Trust.
The Largy Road runner, who has already run around Lough Neagh in two days, now wants to complete it in one. At one stage he will even have to take to the water and swim across a short stretch.
David will be starting off on Saturday 30th April from Antrim Marina at 4am and hopes to be back at the same spot again 16 hours later.
He will run through Randalstown, Staffordstown, Toome, Ballyronan, Coagh, Stewartstown, Coalisland, Maghery, will then swim across a river near Charlestown, then run through the outskirts of Lurgan before he reaches Aghalee, Glenavy and Crumlin and returns to Antrim.
David wanted to come up with the madcap idea to mark Meningitis Trust's 25th anniversary.
David was just three-months-old when he was diagnosed with meningococcal meningitis. a deadly strain of the virus.
He spent 19 days in an isolation ward in Purdysburn Fever Hospital in December 1954 at a time when the condition was considered so contagious that when he was diagnosed at the Children's Hospital, he had to travel by car to Purdysburn as the hospital would not allow their ambulances to carry patients with meningitis.
David made an astonishing full recovery with no side effects and has recently set about raising money for the Trust.
As well as successfully running round the lough in two days, he also did a run on a tread mill at Bow Street Mall and a 16 day run from Lands End to John O'Groats.
"My motto will be one man, one lough, one day," he said. "I often raise money for Meningitis Trust and it is their 25th anniversary so I wanted to do something different. I always thought it would be a challenge but I believe that it can be done in a day.
"I am hoping to start at 4am and finish back in Antrim around 8pm that night."
He plans to swim part of the journey across a small stretch of water near Portadown.
"You can use a boat but I wanted to challenge myself so I decided to swim," he said.
"I will already have run 45 miles by the time I get there and then I will swim 30 meters. I will then have a further 85 miles to go.
"The only problem might be the weather. If it is dark, stormy and wet then that could cause a bit of
a problem and then of course there are the flies that can cause a bit of bother.
David will have a support crew behind him in the shape of a camper van with his partner Wendy Makinnon, an adventurer who has been to the South Pole and met David while doing a run in Derbyshire in England.
She will supply him with food and water and much needed moral support.
"I intend to complete this run. I don't want to do it half heartedly so I need to pace myself. I am quietly confident," David said.
For more information on meningitis log onto www.meningitis-trust.org or for donations log onto www.uk.virginmoneygiving.com and donate to David Flowerday.
Ulster Star
22/04/2011