Derriaghy Primary closes its doors for the last time
by MARY MAGEE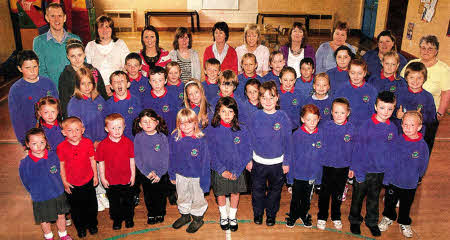 Staff and pupils at Derriaghy Primary School. US2411-549cd
THE DOORS at one of Lisburn's oldest schools were closed for the last time this week.
Principal Gladys Topping locked up at Derriaghy Primary on Thursday following an emotional half day as staff bid their final farewells to the 43 children.
The school, based in Milltown Estate, opened in 1962 and replaced an old school at Derriaghy Road which, according to church records, was built in 1794.
Among recent events to mark the closure was a church service on May 27 which was well attended by present and former pupils, parents and staff.
At the leavers' service recently the PTA were thanked and bibles were presented to each child at the school. The PTA made presentations to the four teachers and five classroom assistants at a lunch they had organised with the Board of Governors at the Tap Room in Hilden.
There was a sports day on Monday followed by a disco that evening organised by the PTA who also sent the whole school on an enjoyable outing to the Ice Bowl where the younger pupils had a great time at Indiana Land.
Principal for the past 13 years Mrs. Topping said it had been a difficult time since the news broke in January of the closure.
"It has all been all a little strange for us," she said. "Normally at this time of the year we are looking forward to the new year and getting prepared for that. But this time we are not coming back."
All the staff have got new jobs but there was a sad air as the last bell ran.
Mrs Topping, who has been at Derriaghy for 19 years, said: "The school is an important part of the community but the children will move on to another school and soon make new friends.
"It has been strange how quickly time has gone by. We see parents here who went to this school themselves. It is very sad but I am confident that the children will move on and thanks to support and help of the principal of Seymour Hill the transition will be smooth for them."
Mrs. Topping said. "Derriaghy Primary School had strong roots within the local community, having served the Parish since the 19th century.
"Big schools seem to be the way forward. We did feel there was definitely room for a small school in the area and we put a very strong case and met with the minister in November but to no avail. We got a great deal of support from parents and our MP Jeffrey Donaldson."
Mrs. Topping praised everyone for their help and support throughout the years.
"We still had so many in the school because the parents strongly supported the school," she said. "Some people were very moved by the closure.
"But the children are the main focus and they will move on to their new school and make new friends and it will be a positive experience for them."
Ulster Star
01/07/2011