Derriaghy Scouts launch Centenary celebrations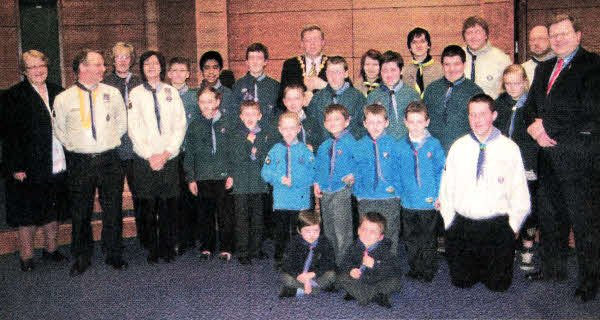 Representatives of Derriaghy Scout Group at the Civic Reception with the Mayor and Councillors Craig and Tolerton.
DERRIAGHY Scout Group have launched their special Centenary celebrations with a civic reception
hosted by the Mayor of Lisburn, Alderman Paul Porter, who welcomed the group to the Council Offices at Lagan Valley Island.
The visit is one of many special events planned throughout 2011 to mark 100 years of the Derriaghy Scout Group, which was formed in 1911 by Edward Brown. During the civic reception the Mayor welcomed leaders and representatives of each scout section and after refreshments, showed the group into the Council Chamber.
The scouts had an opportunity to ask the Mayor questions in the council chamber, and he had a particularly hard time when the Squirrels wanted to know if he was the boss and was he rich or not? Assisted by Councillor Jonathan Craig and Councillor Margaret Tolerton, Mr. Porter gave the scouts a tour of the building and at the end of the reception presented gifts to all.
Mervyn Fleming, Group Scout Leader, thanked the Mayor and Councillors for the reception and interest shown in scouting in Derriaghy and Lisburn City Council area.
The Scout Group offers scouting to boys and girls from the ages of 4 to 14.
The Squirrel section is from 4 to 6 years old, the Beavers from 6 to 8 years, the Cubs from 8 to 10 years and the scouts from 10 to 14.
A boy or girl can continue scouting by joining the Explorers, a unit at district level, providing scouting to 18 years. Three years ago 1st Derriaghy combined with 6th Lisburn (St. Columbus) to form the Spartans Explorer Unit.
Many events are organised for this year as a year long celebration of scouting in Derriaghy.
As well as the Mayor's reception, there was a presentation of a special centenary badge which
has been sponsored by former scout leaders, Jim Hilland and Tommy Thompson.
It resulted from a "design a badge" competition in which all sections of the scout group took part. While there was no outright winner the ideas of the entrants have been incorporated in the final design.
Lisburn District Scouts annual St George's Day Parade and service is being hosted by 1st Derriaghy on April 10, the preacher will be Rev Jack Richardson, retired from Hillhall Presbyterian, who was a long serving member of scouting in Hillhall and Lisburn District where he held the post of District Chaplin.
The highlight of the year will be a camp to be held in Belgium for the older scouts and the explorers from July 6-13.
During this the scouts will visit the grave of their founder near Ypres, which will be a very poignant occasion.
In August there will be a camp for all members of the Group at Newcastle, Co. Down. Whilst a celebration dinner is planned for October where all. former members can reminisce, enjoy yarns from their scouting times in Derriaghy and view a display of photographs and other mementos.
The annual youth service at Derriaghy in November will incorporate a special commemoration of the Scout Group. The final event in November will be the planting of 10 oak trees in the vicinity of the scout hall. This event will be in conjunction with the Woodland Trust.
Group Scout Leader, Mervyn Fleming would like to hear from past members so as they can be informed of forthcoming events, especially the reunion to be held in October.
Contact details can be left on 92689839 or email Mervyn.Fleming@googlemail.com.
| | |
| --- | --- |
| | |
| 1st Derriaghy and 1st Cullybackey Scouts visit to the World Jamboree, Norway 1975. | Jim Hilland, District Commissioner, presenting 1st Derriaghy Cubs with the Expandite Shield in October 1971. |
| | |
| 11th Belfast Boy Scouts (Derriaghy) camping at Newcastle, Co. Down in July 1922. | 1st Derriaghy Scout Camp Kirk Michael, Isle of Man, July 1954. |
The man who started it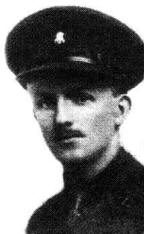 DERRIAGHY Scout Group was founded by Edward Brown who was born in Derriaghy in 1893, the eldest son of Robert and Mary Brown, and he lived at Pond Park, Lisburn.
Edward was employed before the war at Messrs. William Heney & Co., Brunswick Street, Belfast. He was a member of the South Antrim Volunteers, UVF and was signalling instructor at the Old Town Hall. Commissioned on November 161914, he was promoted to Lieutenant on April 1 1916.
He served for a time with 11 RIR although he did not embark with them for France in October 1915. Subsequently posted to 18 RIR, attached to 2 RIR, he was slightly wounded during the attack on the Messines Ridge on June 7 1917, taking over command of his company after his captain was hit. He was killed in action by a grenade at Westhoek, near Ypres on August 7 1917 aged 25, and is buried in the Huts Cemetery, Dickebusch, Belgium, plot 2, row B, grave 131 His headstone inscription reads, "Make them to be numbered with thy saints in glory everlasting."
Edward played as goalkeeper for Lisnagarvey Hockey Club and used the Lisnagarvey colours of sky blue and navy for the scout colours. There has been no change to the colours since.
The group was originally called 11th Belfast and changed its name to 1st Derriaghy in 1934 when Lisburn District was formed.
Ulster Star
01/04/2011