Derriaghy Scouts pay poignant visit to founder's grave
| | |
| --- | --- |
| | |
| 1st Derriaghy Scouts at The Huts Cemetery, Dikkebus, near Ypres, Belgium. | Spartans Explorer Unit at The Huts Cemetery |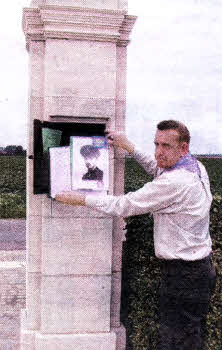 John Hilland, Scout Leader, 1st Derriaghy, places details of Lt. E. Brown and 1st Derriaghy in the memorial box at the gateway of The Huts
MEMBERS of 1st Derriaghy Scouts have paid a poignant visit to the grave of their founder, Lieutenant Edward Brown, who was killed in the First World War.
For the local scouts, who are celebrating their centenary, this was the main event of their year long celebrations. The group camped in Belgium, where Lt. Brown is buried at The Huts Cemetery in Dikkebus, near Ypres.
The camp proved to be a great success for the local group, who flew to Brussels from Dublin before travelling by train to St Joris Weert, the village close to the De Kluis camp site, where they stayed during their visit.
They paid a visit to Lt. Brown's grave on Sunday July 10 and held a Scouts' Own service at the grave side.
The scouts arrived at the cemetery just after noon, following a three hour train journey and a 6km hike, op a blistering hot day.
The theme of the Scouts' Own was based on. 'Be strong and of good courage' (First Chronicles 28:20), and the scout law, A scout has courage in all difficulties'. They heard that nothing can be more courageous than to fight for your country, especially in the conditions of the First World War.
The group had intended to place a small oak cross with a scout with a scout badge on the grave but unfortunately the War Graves Commission do not allow any items on the graves. The oak cross had been chosen as the symbol for Derriaghy, which is derived from the Irish, Doire Achaidh, meaning the oak grove.
The group, however, did gather a couple of acorns found on the camp site at De Klius and these were sewn adjacent to the cemetery gates.
They also sprinkled soil taken from Derriaghy graveyard onto Lt. Brown's grave during the service.
Afterwards a photograph of Edward Brown, his military details, history of the scout group, a centenary badge and group scarf were left in the memorial box at the entrance gate. The scouts made their own comments on the visitors' record sheets.
The event was very emotional and will be in the memories of the scouts forever.
Visits were also made to WaIibi theme park and Leuven, where the Belgian Scout and Guide museum is located.
1st Derriaghy Scouts also have plans underway for a reunion on October 21. For further information about this, please contact Mervyn Fleming on 07939488443 or email Mervyn.Fleming@googlemail.com
Ulster Star
19/08/2011