Dancers raise over £800 for diabetes charity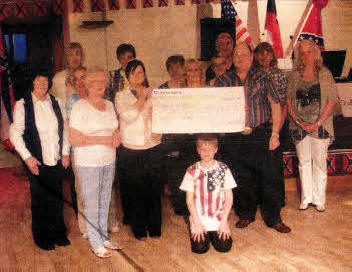 Cajun Critters Music Club presents a cheque to representatives for Diabetes UK.
A COUNTRY club based at the Maze has helped to raise £846.36 for Diabetes UK.
John and Noreen Murray from the Cajun Critters Country Music Club would like to thank those who supported and helped raise this amount.
The couple organised a country and line dancing evening on Friday May 20 and received support from family and friends and other country clubs. Heartlands provided entertainment on the night and raffle prizes were provided by Pizzarelly's Restaurant, Knockmore Pharmacy, Kelly's Fruit Shop, Meats Here and the Spar all in Longstone Street.
Naomi Brown, Fundraising Assistant for Diabetes UK Northern Ireland, said: "I would like to offer my sincere thanks to the John and Noreen for all their hard work and support. People often don't realise how serious a condition diabetes is and we rely heavily on people like John and Noreen to raise awareness of the condition and to help us raise funds for research into the condition. I would like to thank the other country clubs and the people in the area who supported the event so well."
The money raised will support Diabetes UK's work in Northern Ireland including supporting diabetes research in both local universities, care events including the Children's and Youth Camps, the Careline, information leaflets, awareness and campaigning.
If you wish to become a member of Diabetes UK, or for more information on membership visit. www.diabetes.org.uk/supportingmember or call supporter services on 0845 123 2399.
Ulster Star
01/07/2011