Disabled riding group get a helping hand
from those on community service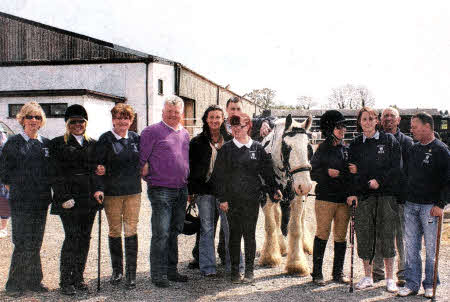 Included are probation staff with members of Riding for the Disabled and participants in the Annual dressage competition at Danescroft.
THE Minnowburn Group of Riding for the Disabled has thanked offenders on community service for assisting in the Annual Regional Dressage competition which took place on May 4 in Danescroft outside Lisburn.
Joan Henderson from the Minnowburn group said: "Riding for the Disabled really appreciate the work carried out by those on community service. They carried out hard manual work including lifting jumping poles and preparing the courses which is often very physical work. They have assisted in the preparation for this annual competition and have worked all year round."
The offenders, who are supervised by the Probation Board for Northern Ireland, prepared the courses and assisted the riders and instructors. Andrea Turnbull and Stephen O'Brien from Northern Ireland Chest, Heart & Stroke, who use RDA to help in the rehabilitation of stroke victims, also paid tribute to the work of those on community service.
Stephen O'Brien commented: "Volunteers are really important for this scheme, and without the work of those on community service, supervised by the Probation Board, it would be very difficult."
Probation Board Community Service Supervisor John Burrows added: "Of all the community service schemes Probation Board participate in, riding for the disabled is one of the most beneficial in terms of giving offenders an opportunity to see how positive behaviour can make a massive difference to the lives of these riders. The riders, many of whom have suffered from strokes are determined and inspirational characters and those on community service benefit not only from paying back but seeing how commitment and determination can pay dividends."
PBNI Area Manager with responsibility for Community Service in Belfast Christine Hunter concluded:
"We are delighted that offenders are paying back to the community in a way that benefits the lives of disabled horse riders.
"Community Service is an extremely effective tool in preventing people from going on to re-offend.
"Three out of four people who complete community service are not reconvicted in two years. It is a visible and practical method of ensuring offenders pay something back to the community while at the same time helping offenders to develop skills they can use in the future which will prevent them continuing in a cycle of crime."
Ulster Star
13/05/2011