Local doctor is remembered at dedication ceremony
by STACEY HEANEY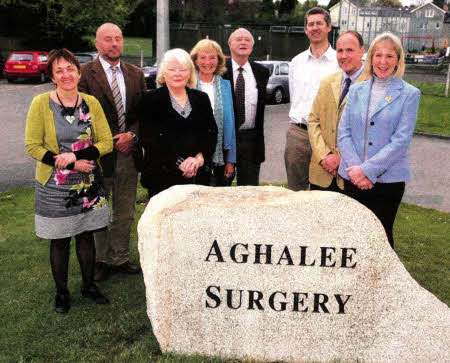 Dr. June Wilson, Dr. Alan Bell, Evelyn Best, Nichola Hynes, Professor Gordon Best, Dr. Henry O'Frlel, Lindsay Best and Julie Jordan at Aghalee surgery. US1611-105A0
A SPECIAL dedication took place in Aghalee last week to remember local Doctor John Best, who passed away on October 9 2009.
A Mourne granite stone was dedicated to Dr. Best, who was well-known and loved at Aghalee Surgery, last Thursday, with members of his family in attendance.
Bought by Dr. Best's family, the stone will act as a new entrance sign for the surgery, with a dedication to the popular doctor on the back.
The ceremony was attended by Dr. Best's two daughters Julie and Nicola, his son Lindsay, his brother Professor Gordon Best and his wife Evelyn.
The late Dr. Best's wife was unable to attend due to being in hospital.
The current doctors at the surgery Dr. Alan Bell, Dr. Henry O'Friel and Dr. June Wilson also attended the event.
Dr. John Best was born in the Dungannon area and educated at The Royal School Dungannon and Queen's University Belfast where he graduated in medicine.
Dr. Best moved to Aghalee in 1962 where he worked with Dr. John Wilson, initially at The Dispensary on Foley Hill, then the Old Police Barracks and finally at the new surgery which was opened by Mrs. Olive Best in 1986.
After Dr. John Wilson's retirement Dr. Best was joined in the practice by Dr. Alan Bell and Dr.
June Wilson.
Dr. Best was a much loved traditional general practitioner with just the right balance of compassion and technical skill. The stories of his exploits were many and varied.
During the severe weather in the winter of 1963 he travelled by tractor to make his house calls.
Many older patients will remember him working in the dispensary in the Old Police Barracks.
He always stood beside the roll top desk wearing his white coat busy making up prescriptions.
His medical skills were often rewarded with a bag of potatoes or even the odd Lough Neagh salmon, no questions were asked about how the fish had been acquired.
Outside the Practice Dr. Best had many interests. Boating was a huge passion in his life and he had sailed all over Northern Ireland and most recently had obtained great pleasure from cruising on the Shannon.
Perhaps the most famous sailing story is the great expedition across the North Channel when he set out from Donaghadee in thick fog.
He was sure he had reached the Scottish coast only to be confronted by the seafront at Whitehead!
Dr. Best also enjoyed gardening and his familiar figure in the grounds of Aghalee House is now sadly gone.
Ulster Star
22/04/2011