Local budding young filmmakers take part in documentary summer school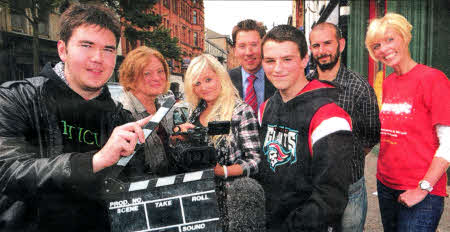 Young filmmaker John Watson from Ballymena, Marian Clark de Monreal, Legacy Trust Programme Co-Ordinator, young filmmaker, Natalie Watson from Lisburn, Paul Reilly, Reporter and Presenter, IN Daybreak Northern Ireland, young filmmaker, Laurence Slater from Lisburn, Tristan Crowe, Northern Visions and Laura Carlisle, Cinemagic, get in the picture at a week long summer television documentary school taking place this week in Belfast. Photo:Aaron McCracken/Harrison Photography
TWELVE young filmmakers, including Natalie Watson and Laurence Slater from Lisburn, recently took part in a week of film making activities under the guidance of Northern Visions and Cinemagic International Film and Television Festival as part of a week long summer television documentary school.
The young people spent the week working on a sports themed documentary. Industry professionals lending their support to the school included Brian Henry Martin, Doubleband Films and Paul Reilly, Reporter and Presenter, ITV Daybreak Northern Ireland. The filmmaking project is part of a series of film activities entitled 'Now & Then: Our Journey', a programme that is part of an initiative led by Northern Ireland Screen for the Legacy Trust UK Connections Programme.
Natalie Watson, who took part in the summer school, clearly enjoyed the experience. "I thought the documentary and film school was fantastic," she said. "I learnt a variety of skills from different aspects of television from setting up the camera and recording cutaways around the city centre to editing a documentary and doing interviews with a cool fm sports journalist.
"As I had absolutely no experience at all, this course was most beneficial to me as I learnt so much in the space of five days. It has made me realise that this is the career path I want to follow as I couldn't imagine doing anything else. I would definitely be back without a doubt."
The programme is funded by Legacy Trust UK, an independent charity set up to help build a lasting cultural and sporting legacy from, the 2012 Olympic and Paralympic Games, and is managed by the Arts Council of Northern Ireland.
Marilyn Hyndman, Northern Visions said: "We are delighted to part to support young people to gain skills in digital media. This is a wonderful opportunity to try out filmmaking in a supportive environment and to contribute to Northern Ireland's celebration of the 2012 Olympics."
Joan Burney Keatings, Chief Executive of Cinemagic added: "This is the third year of activities and events that aim to inspire and motivate young people throughout Northern Ireland in the lead up to the 2012 Olympic Games. The aim of 'Now and Then - Our Journey' is to offer fun-filled, educational events for young people, to develop their creative skills and to celebrate the various themes around the Olympics."
julieann.spence@ulsterstar.co.uk
Ulster Star
19/08/2011