Parkinsons UK chosen charity for popular Drumlough Road Race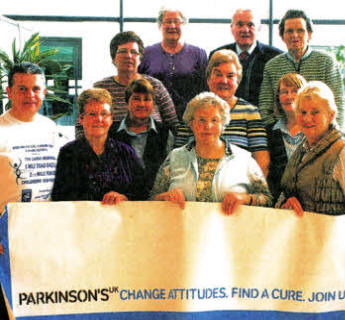 At the launch of the Drumlough Tom Calrns Memorial Road Race is Maureen Stanfield, together with other members of the Drumlough Community Association, accompanied by Agnes McKissock, Violet Swarbrigg from the Lisburn Branch of Parkinsons UK, Sean McGurnaghan City of Lisburn Athletic Club and Tommy Welsh Road Race Timekeeper.
THIS year's nominated charity for the annual Drumlough Tom Cairns Memorial Road Race is the Lisburn Branch of Parkinsons UK.
The popular Road Race takes place on Wednesday, June 22 and is organised by Drumlough Community Association in conjunction with the Sports Development Department of Lisburn City Council.
Maureen Stanfield, Chair of the Drumlough Community Association, is inviting runners to come to Drumlough and take part in the race. The Road Race is a great way to get everyone involved and build community relationships, there is something for everyone and all are welcome to take part and enjoy the event, said Maureen. "Don't worry if the 5 mile challenge seems a bit daunting you can join in the 2.5 mile Fun Run, and children can compete in the 1km Children's Run."
The Road Race was started several years ago by local man, the late Tom Cairns, and has successfully raised much needed funds for various charities.
The Vice Chair of the chosen charity, Agnes McKissock, commented: "We are delighted that the
Lisburn Branch of Parkinsons UK has been chosen as the beneficiary of this years event."
Violet Swarbrigg the charity Secretary continued: Our charity aims are to provide advice, friendship and support for members and carers by organising outings, physiotherapy, speech therapy and counselling. We also contribute to much needed research into Parkinsons, both locally and at various research centres in England.' Adrian Baron Sports Development Officer added: "This is an annual event which we are very happy to be involved with as it helps promote health and fitness in a fun way."
Ulster Star
03/06/2011