Lisburn's Emma hopes to be the Face of Northern Ireland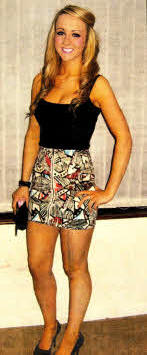 A LISBURN teenager has made it into the finals of the Face of Northern Ireland Beauty Competition.
Emma Beggs, 18, will battle it out to represent the province next month at the Bannville House Hotel in Banbridge.
The student, who has just completed her A-Levels at Fort Hill College and wants to train as a primary school teacher, explained how it all came about.
She said: "I found out about the competition by chance just recently as I was browsing on Facebook, where I saw that one of the contestants had to leave the competition due to a brilliant job opportunity, and they were looking for somebody to fill the place to make up to the final 45 contestants.
Not thinking twice, I went straight onto the website www.faceofnorthernireland.co.uk and submitted an application form, thinking to myself, well what have I got to lose?
The next day I got a phone call from Taylor Rae telling me the good news, that I was one of the hundreds of applicants to successfully make it into the finals. I was totally overwhelmed, and am so excited to have been given the opportunity to participate in the Face of Northern Ireland Beauty Contest."
Emma continued: "I am mostly looking forward to meeting the other contestants from around Northern Ireland, gaining experience, learning new things and of course, getting to glam up for the night and wear lots of different outfits. I wish all the girls the best of luck. The winning lady will go on to represent Northern Ireland in the grand final of the Face of Europe competition which is taking place in Disneyland Paris."
Emma Beggs
Ulster Star
12/08/2011