'Enjoy every day' the secret of living with diabetes for 60 years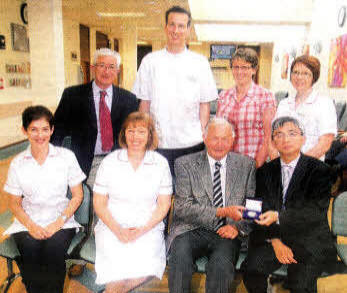 George Johnston receiving his Lawrence Medal from the Diabetic team at the Lagan Valley Hospital. US2211-109A0
AN Aghalee man who has received The Robert Lawrence Medal in recognition of living with diabetes for 60 years says keeping fit and a determination to enjoy every day have helped him cope with the condition. Mr. George Johnston, 68, was diagnosed with type one diabetes at the age of just eight.
He was recently presented with his medal at the Lagan Valley Hospital and says he felt a sense of gratitude at the special event held to mark the occasion.
The medal is named after the late Dr. Robert Lawrence and is presented in recognition of the courage and perseverance of living with diabetes.
George explained that a lot has changed since he was first told he had the condition.
When I was a young boy my mother had to boil the glass surrounds and needles everyday, but today it is so much easier to administer the insulin," he said. "Even the needles have become much finer, they used to be 'very coarse."
George said he was scared when he was told about the problems he might experience with his condition and so even at a young age decided that he was going to live life to the full - and this is exactly what he did.
"When I was told I had diabetes it scared the life out off me. I didn't understand exactly what it meant and when the doctors told me about all of the things which could happen, I decided that I was going to live each moment to the full," he said.
George, who worked in a Creamery in Magheralin, went onto marry Rita and have three children. Now retired he enjoys spending time working in his garden.
He said: "Keeping active over the years by playing tennis, football and badminton and having a positive mental attitude helped my health. "
A lot of people feel depressed when they are diagnosed but if you try to be positive you will get through it. I have been blessed with great health and I put it down to keeping active."
He added: "Times have changed and when one of my sons was diagnosed at the age of 12 I was able to relate to how he felt because I knew what he was going through."
George, who says he is in good health apart from the occasional issue with his feet, said he owed
a lot to his "family for their care and support as well as the doctors at Lagan Valley hospital and GPs and my Podiatrist too".
Ulster Star
03/06/2011