Family helping charity to make 'Everyday Amazing' for children living with cancer
by MARY MAGEE
| | |
| --- | --- |
| | |
| The Loney family with Santa. | Angela Loney with Grainne and Maeve at a Christmas Show. |
A MAN originally from Crumlin is one of the faces associated with a year long advertising campaign launched by the Northern Ireland Cancer Fund for Children (NICFC) entitled 'Everyday Amazing' to promote awareness of the needs of children, teenagers and young adults living with cancer in Northern Ireland.
Gerald Loney (45), whose ten-year-old daughter Maeve suffered from leukaemia, is in an advertisement which reflects the amazing courage and spirit that families across Northern Ireland face and the devastating reality of a childhood cancer diagnosis.
The campaign features real people sharing their experiences of childhood cancer as well as their hopes and fears for the future.
The Loneys nightmare began in 2006 when their then youngest child Maeve (10) was diagnosed with chronic myelodysplasia — an adult form of leukaemia extremely rare in children.
Gerald's wife Angela noticed Maeve was losing weight, she looked gaunt and bruised easily. Blood tests revealed that she had a type of leukaemia.
"We were just floored. We were devastated," said Gerald. "It is not news that you ever want to hear. We were told that the only treatment was a bone marrow transplant."
None of the family were a perfect match so Maeve was put on a waiting list for several months before a donor was eventually found, a female in America.
Angela, Gerald and Maeve had to relocate to Bristol for four months where she had the transplant - leaving their son Dermot behind.
Maeve had the transplant in February but during her treatment she was also diagnosed with a missing chromosome and an absence of NK cells (Natural Killer cells), which play a major role in the rejection of tumours and cells infected by viruses. Both of these conditions are normally fatal.
During her recovery she was also losing litres of solid and liquids a day. When the family was eventually allowed to return home Maeve was admitted to the Royal Hospital for Sick Children where she stayed until October so she could receive ongoing treatment.
During this time Angela gave birth to her youngest child, Grainne, on July 25, 2007 in the Maternity wing of the Royal while Gerald was in another part of the hospital at Maeve's bedside.
She was so sick she had to be kept in isolation and was unable to see her newborn sister for several months.
Despite a few minor setbacks since Maeve is now thriving and will be closely monitored until next year when she is expected to get the all clear. Her bloods and results have become so good she no longer has to go to Bristol for checkups but is still a year away from remission. "Maeve has had a few minor problems and has had to had have a few stays in the hospital but she is a real wee fighter," said Gerald.
"When she was finally allowed to come home it was the best day of our life."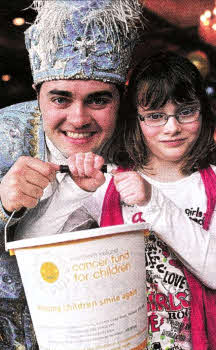 Gerald got involved with the NICFC after they contacted the family during Maeve's early diagnosis.
"To be honest at first we did not want to hear the word cancer," said Gerald. "I remember they rang and said who they were, but once we heard the word cancer we did not want to know.
"You don't like to think that your child has cancer do you? However they were very good and came out to visit us. Through them we got breaks to Shimna Valley which was great for us as a family.
They have helped us in so many ways that we cannot repay them."
When Gerald was asked by the charity to be part of the campaign he jumped at the chance.
"We were so grateful for the help and support we received we wanted to give something back as a thank you," said Gerald. "I have been noticed from the advertisement and a few people have been kidding me that I'm a star, which is quite funny. But on a serious note if our story gives any help to other people then it will be great."
'Everyday Amazing' advertisements can be viewed on www.nicfc.com. To make a donation to the Northern Ireland Cancer Fund for Children, please call 0800 0838 162 or visit the website.
Alternatively, donations can be made at Northern Bank branches throughout the province.
Maeve at a Christmas Show
Ulster Star
18/03/2011