Exceptional local women are honoured
| | |
| --- | --- |
| | |
| Trust President Kate Smith presents Michelle Gifford with her Special Carers Certificate. | Trust President Kate Smith presents Andrea McCormick with her Carers Certificate. |
THREE local women have been honoured by The William Keown Trust at their prestigious Annual Awards.
The awards recognise the accomplishments and courage shown by children and adults with disabilities, whilst also recognising the work of carers.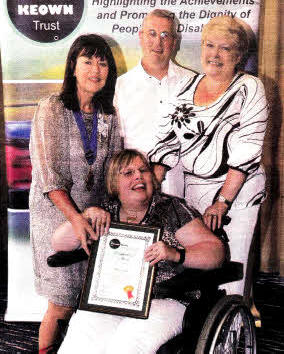 Trust President Kate Smith presents Andrea Baxter with her Adult Achiever Certificate. Also included are members of Andrea's family.
The three local women honoured were Andrea Baxter from Upper Ballinderry and carers Andrea McCormick, also from Upper Ballinderry, and Michelle Gifford from Lisburn.
Andrea Baxter, an adult achiever, received a Certificate of Merit at the ceremony. Speaking about Andrea, the Trust said: Andrea is an exceptional young lady who continually overcomes her major physical disability with determination and grace."
They said the local woman, who was born with cerebral palsy, "strives to accomplish the normal things everyone else takes for granted."
They added: "This year has been an exceptional one for Andrea, she was chosen to be the face for the Carers Forum on Learning Disability based in Lisburn; this meant that Andrea has been involved in all the promotional activities including meetings and conferences.
"She is an inspiration to everyone she comes in contact with and has enjoyed the busy and demanding schedule of public appearances and publicity shots."
Carer Andrea McCormick also received a Certificate of Merit. Andrea cares for her daughter Joanna who has Rubinstein Tabi Syndrome, together with an associated learning disability. Joanna is unable to read or write and requires adult supervision twenty-four hours a day.
Andrea is a nurse and has also trained in complementary therapies, and although she is recently retired from general nursing, she continues to carry out complementary therapies for those who are vulnerable or have special needs. Through her parenting, nursing, and complementary therapy skills Andrea has enhanced her daughter Joanna's quality of life.
Lisburn carer Michelle Gifford was presented with a Special Certificate of Merit for caring for her husband Stephen, who had his first stroke in December 2008 at 31, when the couple had been married just three years.
At the time Michelle was told that her husband's condition could be fatal.
Initially Stephen's progress was slow - he had no speech, he was bedbound and had to be tube-fed.
Michelle has dedicated her life to caring for Stephen. The Trust said: "She is a positive, proactive and practical person who encourages Stephen to live as full a life as possible within the remit of his abilities.
"Michelle deserves recognition for her overwhelming positive attitude and for refusing never to give up.
"It is unlikely that Stephen would have made the progress he has without the ongoing support and love from Michelle."
Ulster Star
01/07/2011