Lisburn pipe band blows the opposition away
Field Marshal Montgomery claim seventh world crown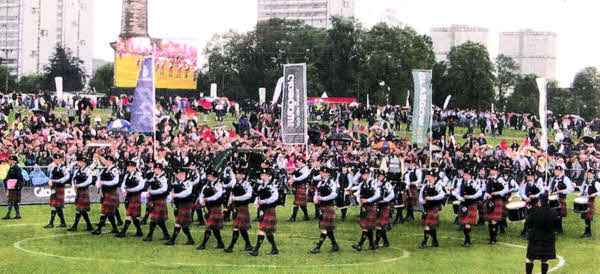 Field Marshal Montgomery Pipe Band
A LISBURN pipe band has plenty to "blow" about - after being crowned world champions last Saturday.
Field Marshal Montgomery Pipe Band won their seventh grade one world championship at Glasgow Green in Scotland.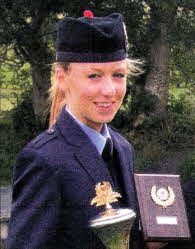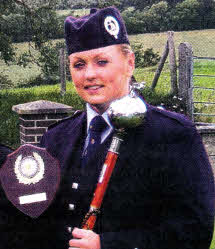 And in a great day for locals, Kinallen's Alicia Dickson was crowned as Adult Drum Major while Lauren Hanna from Drumlough took the Juvenile Drum Major crown.
The world championships are the highlight of the piping and drumming calendar with more than 200 bands and almost 70 drum majors travelling from far and wide to compete in Glasgow.
There was a large Ulster contingent with around 40 bands and as many drum majors, accompanied by many supporters, making the trip to Scotland.
David Scott, from the Northern Ireland branch of the Royal Scottish Pipe Band Association (RSPBA), hailed the impact of local competitors at the prestigious event. "We would like to congratulate all the competitors from Northern Ireland who outperformed at Glasgow Green - it was a huge success for bands and individuals alike," he said.
"In the drum major competition, there was potentially 18 prizes up for grabs of which we brought 17 of those back to Northern Ireland."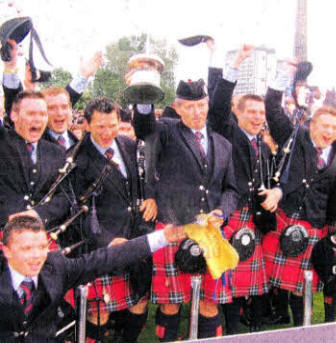 Field Marshal Montgomery celebrate their success
Paying tribute to Field Marshal Montgomery's victory, he added: "Their professionalism
and the mannerism in how they perform, I think, inspires other pipers and drummers throughout Northern Ireland to perform even better."
Field Marshal, who had been runners-up for the last three years, took first place on Saturday ahead of Canada's Simon Fraser University in second. Completing the top six prize winners in grade one were Scottish Power, Inveraray and District, St Laurence O'Toole, and Boghall and Bathgate Caledonia.
House of Edgar Shotts and Dykehead were named the best drum corps in grade one, however, it was Boghall who won the MSR drumming and Field Marshal the Medley, but two second places were enough for Shotts to win overall.
Field Marshal won both the March, Strathspey and Reel and Medley section on their way to victory.
Lisburn Mayor, Councillor Brian Heading congratulated Field Marshal on their success. "I am delighted that this world famous band has once again brought this supreme title back to Lisburn," he said. "With 21 Ulster and 19 All Ireland Championships and now 7 World Champion titles, they are officially the most successful pipe band in history.
"They are quite simply in a league of their own. To perform and compete at this level takes countless hours of practice and on behalf of the Council I'd like to congratulate all the members of the band for their commitment and their talent. Their success is richly deserved."
World Championship Results
Grade 1: 1st, Field Marshal Montgomery (also first MSR and Medley); 2nd, Simon Fraser University; 3rd, Scottish Power; 4th, Inveraray & District; 5th, St Laurence O'Toole; 6th, Boghall & Bathgate.
Drumming Overall: House of Edgar Shotts and Dykehead. Medley Drumming: Field Marshal Montgomery. MSR Drumming: Boghall & Bathgate.
Grade 2: 1st, Seven Towers; 2nd, Denny & Dunnipace Gleneagles (also best drums); 3rd, Ravara; 4th, St Thomas Alumni; 5th, Stuart Highlanders; 6th, Grampian Police.
Grade 3A: 1st, Oban; 2nd, Manorcunningham; 3rd, Coalburn IOR; 4th, Isle of Islay; 5th, Quinn Memorial; 6th, City of Edinburgh. Best drum corps: Police Service of Northern Ireland.
Grade 3B: 1st, New York Metro (also best drums); 2nd, St Laurence O'Toole; 3rd, Rothesay & District; 4th, Badenoch & Strathspey; 5th, Matt Boyd Memorial; 6th, Stamperland.
Grade 4A: 1st, Scottish Borders (also best drums); 2nd, Upper Crossgar; 3rd, Ballybriest; 4th, Thiepval Memorial; 5th, Major Sinclair Memorial; 6th, Cullybackey.
Grade 4B: 1st, Closkelt; 2nd, St Colmcille's; 3rd, Achill; 4th, Bo'ness (also best drums); 5th, Ogden Legion; 6th, Fivemiletown.
Drum majors
Adult: 1, A Dickson, Matt Boyd Memorial; 2, P Braiden, Ballycoan; 3, S Gordon, Field Marshal Montgomery; 4, A McKeown, Battlehill ; 5, W Jordan, Scottish Power; 6, B Wilson, Lomond and Clyde.
Juvenile: 1, L Hanna, Drumlough; 2, I Burns, Dumbarton and District; 3, S Gilchrist, Ballycoan; 4, L Muldrew, Marlacoo; 5, V Catterson, Quinn Memorial; 6, J Price, Marlacoo.
Junior: 1, Z McDowell, Lisnamulligan; 2, L Abraham, Seven Towers; 3, E Barr, Ravara; 4, R Caldwell, Bready Ulster Scots; 5, K McKeown, Battlehill; 6, B Martin, Raffrey.
Ulster Star
19/08/2011