Firefighter helps communities recover after Japanese earthquake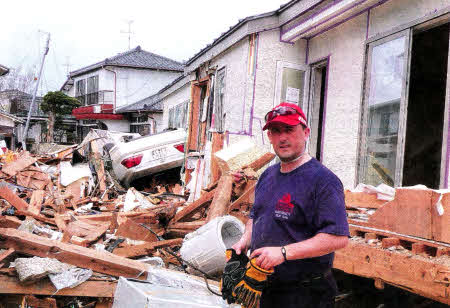 Watch Commander Mark Smyth, who was the only UK Firefighter on the assignment to Japan.
A FIREFIGHTER from Saintfield has just returned from a trip to Japan helping survivors from the Japanese earthquake and tsunami in April rebuild their lives and villages.
Watch Commander Mark Smyth was on a humanitarian mission to the Iwaki area to help local communities.
Mark was the only UK Firefighter on the assignment arranged by the Firefighters for Christ team from America, working along with the Christian Relief Assistance Support and Hope Organisation (CRASH).
He also raised over £4000 before he went which went towards travel and the work they were involved with in Japan.
The group spent two weeks working in Iwaki, the largest city in the Fukushima Prefecture.
The sort of work they were involved in included moving heavy rubble, dismantling dangerous buildings, clearing the streets and helping out in the local Refugee centres.
Mark said he was grateful for the opportunity.
"The devastation caused in the area was unbelievable," said Mr Smyth. "While we were there many earthquakes and aftershocks were still hitting the country. Everywhere I looked there were piles of rubble and hardly a house standing.
"I had very mixed emotions during the trip and many highs and lows — it certainly has made me appreciate everything at home much more.
"I am grateful for the opportunity to hopefully have provided some comfort and relief to the lovely people that we met. I would like to offer my sincere thanks to my colleagues at Downpatrick Fire Station, Cadogan Fire Station and the Trainee Firefighters at the Fire and Rescue Training Centre as well as the local community who all helped me raise funds towards this extremely worthwhile cause."
Chief Fire Officer Peter Craig said: "I would like to commend Mark for using his skills and specialist training as a Firefighter to provide much needed help and support to people in Japan who are still facing extremely difficult circumstances following the aftermath of the earthquake and tsunami."
Ulster Star
27/05/2011