First sod cut at St Colman's after eight year wait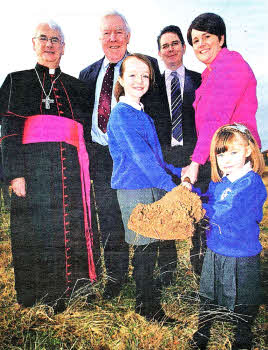 Bishop Noel Treanor, Gerry McCreesh Chairman Board of Governers, Gerry McVeigh Principal, Caitríona Ruane Minister for Education with St Colman Lambeg pupils Katie McLarnon and Eimear Kerr cutting the first sod at the site of the new school. US0811-106A0
AFTER an eight year wait work finally began this week on a new school for St Colman's Primary in Lambeg.
Education Minister Caitríona Ruane paid a visit to the site on Tuesday to cut the first sod and everyone at the school is eagerly anticipating its development, with the hope that children will be moving back from their temporary home on Blacks Road in 2012.
Speaking at the sod cutting ceremony, which was officiated over Mr. Gerry McCreesh, Chair of the Board of Governors, the Minister said: "It is a privilege to have been asked back to mark the start of the construction that is bringing the plans to life. I welcomed the opportunity to be able to include St Colman's in my announcement last August when 13 new schools were allocated funding to start.
"St Colman's Primary School has had a long history serving the children of this Parish and the £2.6 million construction cost of the new school building is really an investment in the future of children currently attending and those who will follow."
School Principal Mr. Gerry McVeigh said he was delighted that work on the building had finally begun. "It has been eight years in coming," he said.
"It is brilliant for the school, for the children and staff and for Lambeg. It is a big empty site and to have the children back on it will give the area a vitality and vibrancy.
"I was really starting to doubt if it was ever going to happen," he continued. "I am conscious that we are a very tiny cog in a huge educational wheel and I genuinely know how lucky we are.
"We are confident we will move into the new school in August 2012 and the children will start in September. "I would like to take this opportunity to thank, amongst others, Jeffrey Donaldson because he put a huge amount of work in during the early stages to get us to this starting point.
The local politicians have all been super. they lobbied on our behalf at a time when people had forgotten about us."
Lisburn's Deputy Mayor, Councillor Brian Heading, also attended the ceremony and commended the Department of Education for securing the funding for the build. "It is great news for the teachers, pupils, school governors and parents that the new build is now underway," he said.
"Since January 2009, the school's pupils have been bussed to the former Balmoral High School premises. I am very pleased to know that there is now an end in sight of what was to have been a temporary measure with transporting pupils to another site.
I believe that the pupils of St Colman's will thrive in a new building with state of the art equipment," he concluded.
julieann.spence@ulsterstar.co.uk
Ulster Star
25/02/2011