Four degrees of non separation for best friends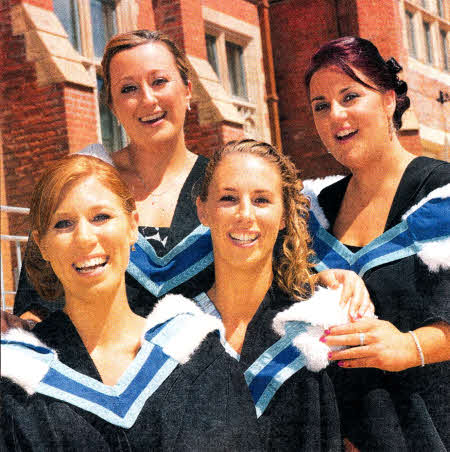 Life-long friends all began jobs at Queen's University and then joined the part-time Business and Management degree at the University- (l-r) Lisa Rutherford, Finaghy; Zelda Dawson, Lisburn; Olwyn Dawson, Lisburn and Claire Wilson, Lisburn all graduated this week.
FOUR best friends from the local area graduated with the same degree at Queen's University this week.
Claire Wilson and sisters Zelda and Olwyn Dawson from Lisburn and Lisa Rutherford from Finaghy have been friends for over a decade, and completed their studies while working at Queen's.
They graduated with BA (Hons) in Management and Business Studies from Queen's University Management School on Tuesday, July 5.
Claire, Zelda, Olwyn and Lisa studied for their degree on a part-time basis while they continued to work full-time at Queen's University. Sisters Zelda and Olwyn graduated with first class honours and Claire and Lisa graduated with a 2:1 degree.
Claire said: "It's not surprising that we're all graduating together, we seem to be inseparable. The four of us are dearest friends who have known each other for such a long time. We have studied and worked together as well as socialising together - we were all bridesmaids for Zelda's wedding in Sri Lanka in 2008."
Lisa said: "It has been a pleasure and a joy to study with such a wonderful group of friends and to complete our degree together. It is an honour to celebrate our achievements with our close families. May our long-standing friendship continue.
"As we consider our options for the future for the first time in five years, we will stand alone to consider our varying career paths. Zelda, who recently joined the Department of Justice, is enjoying her current position and is considering an accountancy course to further develop her skills. Olwyn is considering the MBA at Queen's and Claire and I plan to continue working at Queen's and hope the degree will provide opportunities to further our careers."
Zelda and Olwyn celebrated their graduation alongside their parents Coral and Winston Dawson, Zelda's husband Francis Hearst, and Olwyn's partner Christopher Darling. Claire celebrated her graduation alongside her partner Keith Gardiner and parents Barbara and Stewart Wilson and brother Andrew.
Lisa celebrated her graduation with her grandparents Hannah. and Alfie Kerr, father and step-mum Mervyn and Gillian Rutherford, sister Caryn and brother Mathieu.
Ulster Star
08/07/2011