One year after suffering a heart attack,
Geoff undertakes staggering four-peak challenge
by STACEY HEANEY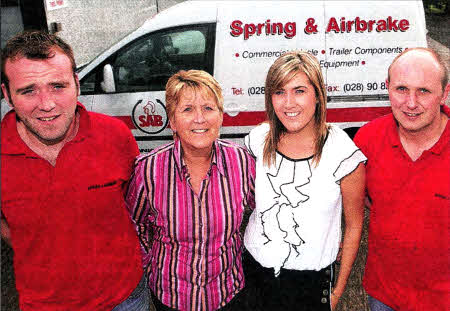 Eleanor, Gareth and Judith Abbott with Geoff Orr. US1911-141AO
LOCAL man Geoff Orr will take on the gruelling challenge of climbing Britain's four highest peaks in one weekend next month, just a year after suffering a heart attack.
Geoff, a manager with Spring & Airbrake Ireland Ltd" was just 36 when he suffered his heart attack in May 2010.
In another cruel twist, it was the same day that Hunter Abbott, a Director of Spring & Airbrake, was released from hospital having undergone Radiotherapy for cancer, before sadly passing away on June 26.
Through his challenge, which will take place over the weekend of the first anniversary of Hunter's death, Geoff is aiming to raise funds for the NI Hospice - Hunter Abbott Tribute Fund and NI Chest Heart & Stroke, with some funds also going to the Cardiac Care Department at Lagan Valley Hospital.
A number of events have been held recently towards the fundraising challenge, including a Karting Day at Nutts Corner last weekend organised by Hunter's son Gareth, as well as a charity day at Derriaghy Cricket Club, of which Geoff is a Committee member, which included charity matches and family events last Sunday.
Paying tribute to Geoff, Hunter's wife Eleanor, the Director of Spring & Airbrake, said: "Geoff has been with us for four years and when he took his heart attack it was just unreal; it was horrendous. He was coming home from a football match and felt chest pains and went straight to the Lagan Valley and he has now thankfully fully recovered.
"Geoff was very, very fond of Hunter and Hunter was very fond of him. It's still all very raw but when Geoff asked to do this in Hunter's memory I was blown away by it and so pleased. I was just so honoured that he would do this."
Hunter, 63, passed away after having been ill for 14 weeks, and Eleanor saw first hand the remarkable work carried out by the Hospice.
"When my husband came home he was only nursed for five and a half weeks before he passed, but the Hospice were wonderful. The Macmillan nurses who came to him were just fabulous. I really feel that I have to give back."
Eleanor and her daughter Judith will also be getting their walking shoes on when they join Geoff for the first part of his challenge, by climbing Slieve Donard on Friday June 24.
Eleanor added: "I would just like to thank our sponsors, our friends, customers and suppliers as without them we just couldn't do it, this wouldn't have happened without them."
Speaking ahead of his challenge Geoff said: "It's been a long journey for me but now everything is coming together."
Geoff, who lives in Lisburn, will climb Slieve Donard on Friday June 24, before taking on Snowdon in Wales on Saturday June 25 and then Scafell Pike in England that afternoon, finally finishing at Ben Nevis in Scotland on Sunday June 26, the anniversary of Hunter's death. The local man, who has undergone rehabilitation with Elaine Elliott, the co-ordinator of the Lagan Valley cardiac rehab services, now takes five different medications each day to ensure he's healthy.
Geoff explained: "I still feel very tired now and then but each day helps a bit more. I used to be involved in a lot of sports and I still do a lot of walking. I've been up Donard a few times and apparently this challenge is very enjoyable, but you need stamina. I'm really looking forward to doing it."
He added; "Hunter and I were very close so I really wanted to do something for the Hospice and obviously I wanted to give to NI Chest, Heart and Stroke and the Lagan Valley Coronary Care because they were absolutely fantastic, the care I received was unbelievable.
"I'm part of Derriaghy Cricket Club as well and they have been absolutely fantastic with everything they've done. For our event last week a team from Lisburn came down and we had a friendly with a team from England. We had 60 cricketers and I just have to thank them for coming over, the generosity is unbelievable.
"Eleanor has been a big support and her son Gareth. I'd also like to thank my sister Angela Orr, who does a lot for charity. The Cricket Club have also been supportive, Graham Kenny is fantastic, inviting me down not even to play but just to be there.
"It's been a long haul but I'm getting there and I m really looking forward to this challenge."
If you would like to donate to Geoff's challenge you can do so at www.justgiving.com/geoff-nichs and www.justgiving.com/geoffnihospice.
stacey.heaney@ulsterstar.co.uk
Ulster Star
13/05/2011