Royal Irish prepare to receive the Freedom of Lisburn
by STACEY HEANEY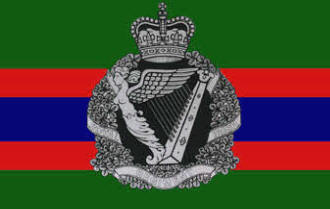 THE Royal Irish Regiment will mark their return from Afghanistan with a parade though Lisburn as they receive the Freedom of the City from Lisburn Council later this month.
The Regiment are set to celebrate their return with three parades across Northern Ireland and a Service of Thanksgiving and Remembrance throughout May.
The Regiment will also host a number of post operational presentations in Belfast and in the north-west in June detailing the part the Regiment played in contributing to developments within Afghanistan.
The first parade will take place on the evening of Friday May 20 when the Regiment will exercise the Freedom of the Borough granted by Ballymena Borough Council.
Then, on the afternoon of Saturday May 21, Lisburn City Council is to meet in special session to confer the Freedom of the City. The Regiment will then exercise that Freedom in a parade through the city.
On Sunday May 22 the Regiment will gather at St Anne's Cathedral in Belfast for a Service of Thanksgiving and Remembrance.
The following weekend Royal Irish soldiers from the 2nd Battalion The Royal Irish Regiment TA who served alongside their regular colleagues in Afghanistan will exercise the Regiment's Freedom of Castlereagh in a parade before moving to Hillsborough Castle for a ceremony with their families and friends in order to receive their Operational Medals.
The Mayor of Lisburn, Alderman Paul Porter, said it was an honour for the Council to bestow the Freedom of the City on the Regiment.
"The City of Lisburn has a long and rich history with all the Armed Forces and is home to its headquarters in Northern Ireland" he said.
"I am delighted that we can celebrate this special bond and acknowledge the unfaltering bravery of the servicemen of the Royal Irish Regiment and pay special tribute to those soldiers who have lost their lives in the line of duty.
"This Council recognises the invaluable and distinguished service to our Nation by the Royal Irish Regiment, particularly in Iraq and Afghanistan, and is delighted to confer its highest honour, the Freedom of the City of Lisburn."
stacey.heaney@ulsterstar.co.uk
Ulster Star
13/5/2011