Cancer Centre says a larger than life 'thank you' to supporters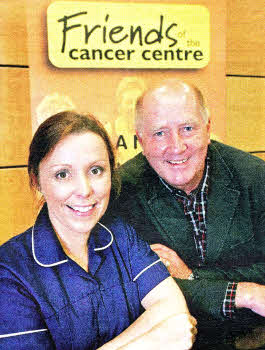 Renee Reid from Lisburn, a Ward Sister in the Cancer Centre, and Gordon McKeown, Chairman of Friends of the Cancer Centre.
TWO Lisburn people will be a little 'larger than life' soon as they are part of a giant poster campaign designed to say 'thank you' for 25 years of community support for the Friends of the Cancer Centre.
Gordon McKeown, who is Chairman of the charity and Renee Reid, a Ward Sister in the Cancer Centre, are part of the Province-wide 48-sheet promotional poster campaign, supported by PML Poster Management, which marks a quarter of a century of fundraising with a recognition that 'we can't do it without you', and features some of the people at the heart of 'Friends'.
The thinking behind the billboards was that if you plan to say thank you for 25 years of community support, then you need to make it a big thank you.
Friends of the Cancer Centre Chairman Gordon McKeown said: "The generosity of the people in Northern Ireland is legendary and all the work we are able to undertake in support of Belfast Cancer Centre patients and their families is testimony to that generosity.
"With our new poster campaign we are saying thank you to everyone who has been part of the first chapter of the Friends' Success Story — but we are also calling for still more help as our story continues."
Renee said she is delighted that Friends are funding a Teenager and Young Adult post for which a person will be employed in the coming months.
Renee added: "This year in Northern Ireland around 8,700 people will be told they have cancer and a large percentage of those people will come for treatment to the Cancer Centre here at the City Hospital.
"This charity isn't just about the big headline-grabbing projects, it also works quietly behind the scenes to provide comforts and services which make a real difference to the people who matter most: the patients and their families. I would ask anybody whose life, family or friends have been touched by cancer to donate or help Friends."
Colleen Shaw, Director of Friends of the Cancer Centre, concluded: "I hope that, as a local charity, we always show our appreciation to the public for their support but, at the conclusion of our 25th anniversary year, we felt the time was right for a special vote of thanks.
"We are proud of what, together, we have all achieved so far and we are looking forward to being able to offer still more support to cancer patients and their families in the future. But, as our poster says, 'We can't do it without you' so this is also a call to action and renewed effort."
Ulster Star
25/02/2011