Hundreds pay tribute as Gareth is laid to rest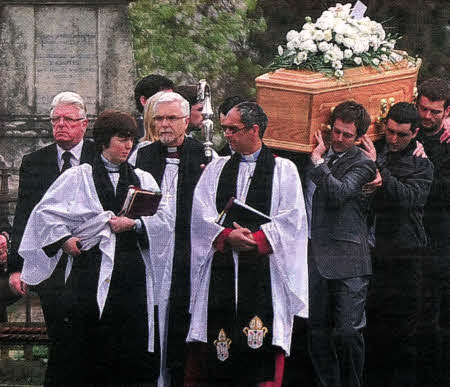 The funeral of Moira man Gareth Crockett was held in St John's Parish Church in Moira last Sunday
HUNDREDS of mourners have attended the funeral of Moira man Gareth Crockett who was killed during a charity cycling trip in Wales.
Crowds spilled outside the doors of St John's Parish Church in Moira on Sunday, listening to the service on speakers, as Gareth's family and friends gathered to pay their respects to the 27-year-old.
Gareth was hit by a car as he cycled through Anglesey on his bike and marathon challenge from Belfast to London to raise money for leukaemia research after his childhood friend and neighbour John Erwin died from the disease last year,
Mourners heard how the "highly intelligent" and "popular" man attended both Oxford and Bristol universities before securing a job at a management consultancy firm in London.
He was described by his brother Jonathan as "a true hero". Holding back tears, he paid tribute to "a roommate, a teammate, a brother" when he told the congregation what it was like growing up with Gareth.
The pair, who played cricket together as youngsters in school, were inseparable and Jonathan fondly remembered how his brother always loved to be the centre of attention.
There was laughter when Jonathan recalled: "Only a few years ago both of us were sleeping upstairs. I got up to go downstairs to the toilet, but I must have got up too quickly because I blacked out and tripped down the stairs.
"Hearing the commotion, Gareth came out to see what had happened and upon seeing me lying passed out at the bottom of the stairs, he fainted on top of me, leaving Mum to look after us both.
Referring to his brother's intelligence, Jonathan caused further amusement when he described an incident when Gareth was a toddler and he took it upon himself to make his own breakfast.
"One Saturday morning Gareth woke up early and wanted to sort himself out with some breakfast but Mum went downstairs to find him missing one vital ingredient. There he was sitting on the tiled kitchen floor, spooning up Rice Krispies and milk straight off the floor."
Gareth's sisters Emma and Alison read a Psalm, while the Rev Canon Roderic West led the congregation in prayers and hymns. Speaking on behalf of parents Bessena and William, he reminded those in attendance that donations were welcome in lieu of flowers to Leukaemia and Lymphoma Research, the cause of Gareth's endurance challenge, known as Bel-Don.
Gareth and his friend Jez Davison had hoped to raise £10,000, but that figure has been well exceeded and currently stands at over £30,000, with Jez having bravely completed the challenge in memory of both Gareth and John on Saturday so that he could attend his friend's funeral.
Paying tribute to Gareth, a spokesperson for Leukaemia and Lymphoma Research, the charity for which Gareth was taking on his challenge, said: "We are shocked and deeply saddened to hear of Gareth's tragic death. Gareth was an inspirational fundraiser, organising a remarkable challenge to raise money for Leukaemia & Lymphoma Research in memory of his friend. Our thoughts are with his family and friends at this time."
Writing in his blog, former spin doctor Alastair Campbell, who had blogged about Gareth's challenge before it began, said: "Gareth and Jez were determined that out of the tragedy of John Erwin's death should come some good. It is horrific that it has ended like this. The appeal remains open at www.justgiving.com/beldonchallenge. It is now honouring the memory of not just one but two young men."
Visit https://www.justgiving.com/beldonchallenge to donate to the cause pioneered by "a true gentleman and scholar".
Ulster Star
22/04/2011