Row blows up over wind turbine plan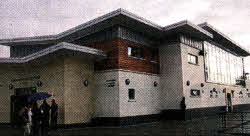 A ROW has blown up in Hillsborough over plans by Lisnagarvey Hockey Club to put a wind turbine up at their grounds.
Objectors have voiced their concerns over the proposal, which would see a 75 foot 20KW Commercial Wind Turbine erected on the club's base on Comber Road.
The club, however, have said the plan is part of their drive to become more environmentally friendly.
A number of residents opposed to the plan say that the majority of Hillsborough's 3,400 residents have not been informed of the proposal.
A spokesperson said: "The commercial scale of the proposed turbine is comparative in size to the apparatus utilized in wind farms, and the proposed location of the wind turbine is only 120m from the nearest dwelling."
They say they fear Hillsborough's "quaint and historic" village appeal will be lost, should the scheme get the green light.
One resident said: "This monstrosity is totally unacceptable. We are not talking about a small domestic wind turbine, we are talking about a 75ft industrial wind turbine set less than 200 metres from the tranquillity and beauty of Hillsborough Forest Park. Clearly it will be a huge eyesore and have a detrimental effect on the character of the area."
Concern has also been raised for the local environment, the spokesperson claimed:
"To date, little or no consideration has been given to the environmental impact of this size of a Wind Turbine, however existing wind turbines throughout UK have been proven to cause noise pollution, shadow flicker and electro magnetic Interference.
"There is great concern from the residents regarding the noise that will be generated by the apparatus should the proposed wind turbine attain planning permission and become operational."
Hillsborough Strategy Group representative, Nessa O'Callaghan added: "I am alarmed that so few residents who would be seriously affected have received notification of the proposal. I would be concerned at the effect that noise levels day and night would have on the quality of life of residents and wildlife. A structure of this magnitude would be out of character and not in keeping with the landscape of the environs of this historic village."
The residents' spokesperson concluded: "It is without doubt, that the existing facility, provided by Lisnagarvey Hockey Club, is one of the finest and enjoyed by many people. However, it must be noted, that their proposal could have a devastating effect on local .residents, wildlife and the unspoiled, natural beauty of this historic village."
A spokesperson for Lisnagarvey said: "The club is awaiting the Planning Service's consideration of this environmentally friendly renewable energy application. This application follows our recent installation of water recycling facility and forms part of the club's drive towards becoming more environmentally responsible and energy efficient."
A Planning Service spokesperson confirmed that a planning application for the erection of a 20kw Wind Turbine on an 18 metre tower was received on March 31.
Ulster Star
24/06/2011