Smash hit show returns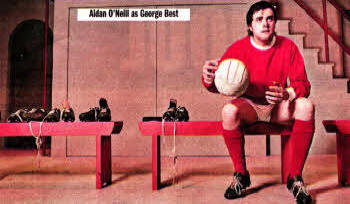 Aidan O'Neill as George Best
FOLLOWING a record-breaking run in 2010, Dancing Shoes - The George Best Story returns triumphantly to the Grand Opera House from Thursday August 4 - Saturday August 27, before embarking on a nationwide UK tour.
Dancing Shoes tells of the turbulent and colourful life of the greatest footballer the world has ever seen. From his childhood days kicking a tennis ball against a gable wall on the Cregagh Estate, to a life of fame, fortune and controversy, this story has it all.
Combining the talents of two of Northern Ireland's most popular playwrights Marie Jones and Martin Lynch, with the songwriting talents of JJ Gilmour and Pat Gribben, Dancing Shoes is packed with great characters, beautiful songs and trademark Belfast humour.
Award-winning director Peter Sheridan reunites an all-star cast, featuring a who's who of Northern Ireland's finest actors including Aidan O'Neill, Paddy Jenkins, Marty Maguire, Conor Grimes, Maria Connolly, Kerri Quinn and Alana Kerr.
Aidan O'Neill reprises his role as the twinkle-toed, blue-eyed wonder boy from East Belfast, in a role he describes as a 'massive privilege' to play.
Featuring the smash-hit songs George's Dancing Shoes, Genius, My World is Round and We ve Had a Ball, 23,000 people and nightly standing ovations testify to the popularity of this highly entertaining show. Internationally-renowned arranger and composer Mark Dougherty has also joined the company ahead of their tour of venues across Ireland and the UK. Dougherty, formerly the Musical Director of Riverdance, has been adding new arrangements to many of the show's songs, and working with the actors to produce a cast recording.
Dancing Shoes follows George Best's meteoric rise to global superstardom, but doesn't shy away from his addiction to alcohol and his ultimate sad decline.
"This is a story about a young boy with a gift," explained Aidan. "You don't need to be an avid fan of George Best to enjoy the show. It is a fast sprint through his life from young boy to his final days.
The story is told through music, comedy and emotion," he continued. "It has a lot of highs but we don't shy away from the lows either.
"We are always trying to make sure everyone understands what is going on so that even if you have never heard of George Best you will still enjoy it. It is about his journey."
Aidan, who is the only actor in the company of nine playing one role, is thrilled to be reprising his role as George Best and is looking forward to the curtain going up. "I play him as a 7-year-old, 15-year-old, when he's in his 20s and right through until his last days," explained Aidan. "It is definitely a challenging role but it is made a lot easier through costumes and music, as well as the guys around me. I am the only actor who plays one character. All the others take on a massive amount of characters throughout the show.
"This time around I am not half as nervous as I was the first time. We had no idea how it would go but now we know we have a winner."
Even if you saw Dancing Shoes last year, Aidan highly recommends paying a second visit to the revamped show this year. "Last year people were describing it as a play with music but this time Mark Dougherty has added new arrangements and it is a proper all-singing, all-dancing musical now. It is the same show but we have definitely stepped up a rung on the ladder."
Dancing Shoes - The George Best Story returns to the Grand Opera House from Thursday August 4 - Saturday August 27. Tickets are priced £12.00 - £31.00, and are available from Box Office on 9024 1919.
Ulster Star
29/07/2011