Down Royal Farrier ready to swap his hammer for a paddle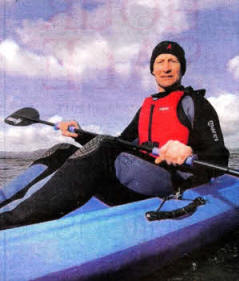 A FARRIER who works at Down Royal Racecourse is set to battle the currents of the North Channel in memory of his late father.
Later this year Glenn McConnell intends to travel to Bangor from Scotland on his kayak. The 41-year-old hopes to raise much-needed funds for two charities close to his father's heart — Belfast Lough Sailability and Riding for the Disabled.
Alexander McConnell, 70, a keen sailor, died in September last year following a boating related accident at Bangor marina.
Glenn hopes to complete the 22 nautical mile challenge in around 10 hours in June this year.
"I will definitely complete it. It will just be completing it in the time I want to do it in, he said. He is currently undergoing a tough training regime around local shores to get him in top physical shape for his North Channel challenge, which will see him paddle his kayak from Portpatrick to Bangor, weather permitting, on Saturday 18 June.
"If I get any good weather at all I get out on the kayak," he added.
"I am training five nights a week, I am cycling, doing training at home, and boxing training two nights a week." While regularly canoeing around Strangford, the equine specialist admits his inexperience in the open water will ensure he faces an endurance test on his homeward journey.
It is going to be hard. There will be a lot of eddies (currents) in and around Donaghadee and that is when I will be most tired. The water is fairly turbulent. "I suppose if it wasn't a challenge there wouldn't be much point in doing it. I could have taken the easy route and cycled instead but I wanted to challenge myself."
Mr. McConnell will be accompanied by his brother Brian, who will provide GPS information from a support craft to plot the optimum course relative to wind and tide.
To donate towards Glenn's kayak challenge contact 028 4483 2865 or visit his website at www.kayakchallenge.com
Ulster Star
01/04/2011