Graduates get help to launch own business
by STACEY HEANEY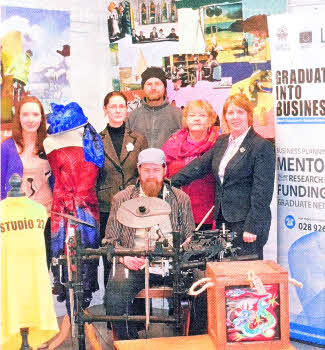 At the launch of the 2011 Graduate into Business Programme are: (back l-r): Miss Rosalind Kennedy, fine artist; Ms. Seonaid Hughes LEO; Mr Darren Bailey, Bobby Box; Ms. Mo Mc Devitt, Studio 23; and Councillor Jenny Palmer, Chairman of Lisburn City Council's Economic Development Committee. (Front): Mr. Martin Byrne, Music production.
A SCHEME to help enterprising graduates setup their own business has been launched by Lisburn City Council.
The 2011 'Graduate into Business Programme' aims to increase entrepreneurial rates in the Lisburn area, especially among graduates who are under-represented compared to other parts of the UK.
Now entering its second year, the programme has already successfully assisted 25 graduate entrepreneurs to explore enterprise and set up their own business.
Councillor Jenny Palmer, Chairman of the Council's Economic Development Programme, launched the Programme at Studio 23 and said: "I find it very positive and encouraging to see local graduates making new opportunities for themselves.
The creative industries are so important to the local economy and supporting the next generation of local entrepreneurs is very exciting. We look forward to seeing more graduates take part in the second year of the Graduate into Business Programme."
The Council is keen to support graduates from a variety of disciplines to become self-employed and this programme provides support to those interested in setting up a business in many areas including the business, technology, engineering or creative sectors.
Studio 23, which is a hive of creative activity, is based at Derriaghy Industrial Estate and comprises a number of individual artists' studios.
Established in 2008 by Mo McDevitt, Studio 23 is a collective space where artists can share ideas, get feedback and support each other through their enterprising journey.
Mo McDevitt said: "Being an artist can sometimes be a lonely and isolating experience. At Studio 23, we aim to provide not only artistic space in which to create but also a supportive environment where ideas can be explored, collaborations established and most importantly, enterprising aspirations can be nurtured.
"We welcome the support available through Lisburn City Council, which can support the artists to achieve their entrepreneurial and artistic ambitions."
To find out more log on to www.lisburngraduateintobusiness.co.uk or contact Lisburn Enterprise Organisation Ltd (LEO) on 9266 1160.
stacey.heaney@ulsterstar.co.uk
Ulster Star
25/02/2011