20 Jobs created as H&M confirms Lisburn opening
by STACEY HEANEY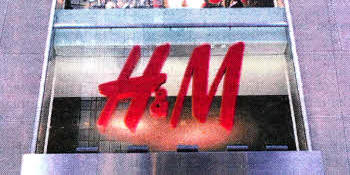 ONE of the biggest names in clothes retailing, H&M, is to open a new store in Lisburn this autumn.
Twenty new jobs will be created when the shop, which will provide fashion for women, men and children, opens in Bow Street Mall.
H&M confirmed the move this week and revealed it will also be opening at The Quays in Newry.
Magnus Olsson, H&M's Country Manager for Ireland, said Lisburn was an "ideal location" for the retailer.
"It's with great delight that I can confirm that we will be opening two new H&M stores in Northern Ireland this Autumn," he said. "We've been looking for opportunities to expand our portfolio in Northern Ireland for some time, and The Quays in Newry and the Bow Street Mall in Lisburn are ideal locations for us to do so. Customers can look forward to the H&M shopping experience of fashion and quality at the best price."
The new stores will add to the four existing locations in Northern Ireland and will create around 40 jobs in total; 20 in each location, in a mix of full and part time positions. The other stores are in the Rushmere Centre, Craigavon; Victoria Square and on Royal Avenue in Belfast; and in BaIlymena.
The new stores are among 10 confirmed new H&M shops opening in the UK and Republic of Ireland this autumn. H&M opened 10 new UK stores this spring.
A spokesperson for H&M added: "It will be a family store, carrying an assortment of H&M's collections for women, men and children — with everything from wardrobe basics to the very latest trends, and with new items arriving in store daily."
Speaking about the move to Lisburn, they said: "H&M always wants to be in the best business locations and we are continuously on the lookout for new and exciting locations across both the UK, as well as the Republic of Ireland. "We feel the Bow Street Mall in Lisburn is a great location for us to continue to expand in Northern Ireland. We hope that the new store will be well received when we open later this autumn."
H & M Hennes & Mauritz AB (operating as H&M) is a Swedish retail-clothing company, known for its fast-fashion clothing offerings for women, men, teenagers and children.
It has over 2,300 stores in 41 countries and as of 2011 employed around 87,000 people.
H&M was established in 1948 by Erling Persson in Västeros, Sweden. At the time it only sold women's clothing and was called Hennes, Swedish for "hers".
In 1968, Persson acquired the premises and inventory of a Stockholm hunting-equipment store, Mauritz Widforss. Included in the inventory was a supply of men's clothing, prompting Persson to expand into menswear. Accordingly, he renamed the store Hennes & Mauritz, later abbreviated to H&M.
stacey.heaney@ulsterstar.co.uk
Ulster Star
29/07/2011