Lisburn man elected as CIMA President
by STACEY HEANEY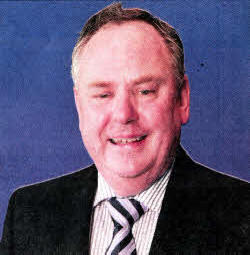 Harold Baird, CIMA President
LISBURN man Harold Baird FCMA, has said it is an honour and a privilege" to have been elected President of the Chartered Institute of Management Accountants (CIMA) at its Annual General Meeting last month.
Lisburn resident Harold, a management accounting and business adviser, was elected as President at the AGM, which was held at the Queen Elizabeth II Conference Centre, London, on June 4. Harold, who is originally from Cullybackey and has lived in Lisburn for 30 years, said: "I am very honoured and privileged to represent Northern Ireland and of course, Lisburn."
The appointment is an international appointment and the next year will see Harold travelling across the globe to CIMAs many offices.
CIMA is the world's leading and largest professional body of Management Accountants, with 183,000 members and students operating in 168 countries, working at the heart of business.
CIMA members and students work in industry, commerce, the public sector and not-for-profit organisations. CIMA works closely with employers and sponsors leading-edge research, constantly updating its qualification, professional experience requirements and continuing professional development to ensure it remains the employers' choice when recruiting financially-trained business leaders.
Speaking about the year ahead, Harold commented: "My Presidency lasts until June 2012, and as I represent the Institute, which has members all around the world, I will get to visit the regional offices. I have just come back from Toronto, where I met the Canadian board and the Toronto Mayor held a reception and I was a guest speaker at that. My next venture will be to Hong Kong, and I will visit Chengdu, China, where I will judge the CIMA Global Business Challenge final 2011, which held heats in 17 countries."
Harold added: "In July I will travel to Moscow to open new offices there and I will attend the world conference in Cape Town in October, as well as visit Botswana and Sri Lanka, and my wife Joan and I will also go to Malaysia, Hong Kong, Singapore and Australia, not to mention there will be events the length and breadth of England, Scotland and Ireland."
Harold has been extensively involved in the CIMA member network and was elected to Council in June 2001 to represent Northern Ireland. He was Chairman of the Members' Services Committee from 2007 to 2009 and has also served on several other committees including the Executive, International Development and Lifelong Learning Committees.
Harold provides services to small-to-medium enterprises and not-for-profit organisations in Northern Ireland and is currently a Director of the Methodist Publishing Company Limited and Belfast Activity Centre Limited. Formerly, he was Senior Corporate Planning Accountant with Northern Ireland Electricity plc which on privatisation became Viridian plc.
As well as his work with CIMA, Harold is a member of Seymour Street Methodist Church, where he is actively involved with a committee to establish The Damask Community Outreach programme, and he was previously the District Commissioner of the Lisburn and District Scouts.
Harold and Joan, who have three daughters, Pamela, Michelle and Louise, also recently attended the Garden Party at Buckingham Palace, which was attended by Her Majesty, The Queen.
Harold added: "CIMA has just recently agreed a joint venture with the American Institute of Certified Public Accountants, the world's largest association representing the accounting profession. This will make us several times the size of anybody else and will result in the award of a new qualification. Personally, I'm very excited about this as it brings together the two most significant accounting bodies in the world.
"I am very much looking forward to the challenge of the year ahead," he concluded.
stacey.heaney@ulsterstar.co.uk
Ulster Star
29/07/2011