Hazel's help to international development is recognised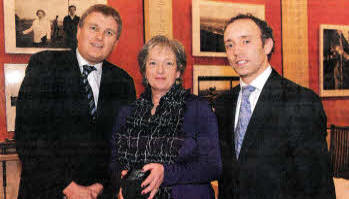 A HILLSBOROUGH woman has been honoured at a reception at Stormont for her contribution to international development. Hazel McCall, a Christian Aid volunteer fundraiser and organiser, was one of several people recognised for their outstanding contribution to international development by the All Party Group on International Development (APGID).
In the early 1980s Hazel, who was a mother of three young children, she read an article about the plight of children in developing countries, particularly in India.
Moved by the story and aware that she was fortunate to have three healthy children of her own, she decided to run a number of soup and cheese lunches in her church - 1st Lisburn Presbyterian - in order to support the appeal. More than 30 years later those lunches still continue to be held every Tuesday from October to May and have raised in excess of £100,000.
Speaking about her award Hazel said: "I did feel it was an honour to be invited to Stormont and be part of it. I am very pleased that the Assembly is taking an interest in International development work.
"I look upon this award as recognition for all of the volunteers who have helped over the years," added Hazel.
Speaking at the event, APGID vice-Chairman Conall McDevitt said; "Over the past 40 years, hundreds of thousands of Northerners have made considerable contributions to the lives of many millions in the developing world. These awards acknowledge only a few exceptional individuals who have transformed the lives of many thousands of miles away. We will seek to make similar acknowledgements every year as it is long overdue that this Assembly, which is not known for its international outlook, honour those who have done so much to promote global development."
Also being a Christian Aid Week volunteer organiser, every May Hazel co-ordinates 22 Churches in Lisburn to take part in the door to door collection which raises on average £27,000 every Christian Aid Week.
Throughout the year she organises concerts in Lisburn for Christian Aid and works extremely hard to ensure the needs of others are kept in the minds of the public in the city of Lisburn. The Banner advertising the soup lunches outside the Church in Market Square is a weekly reminder of how people can support overseas development in a very simple but positive way.
Hazel also served as the World Development Convener for the Presbyterian Church in Ireland and whilst convener, she had the opportunity to visit Christian Aid projects in India and to see for herself the transforming effect her fundraising was having on the lives of others. This visit served to inspire her to continue the witness of the Christian Aid Committee in Lisburn and indeed the wider church.
Ulster Star
01/04/2011