Everyone urged to take the `highway to health'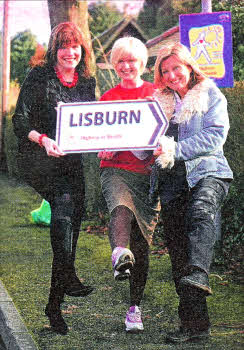 Starting on the Highway to Health are (left to right) Clare Guinness, Regional Business Manager Nl at Bank of Ireland, Vanessa Elder, from NI Chest Heart and Stroke and Lynda Bryans.
A LEADING health charity is urging people in Lisburn to take advantage of the change in the seasons and put a spring in their step.
TV's Lynda Bryans led the way by heading out on NI Chest Heart & Stroke's Highway to Heaiteh — a series of walking routes around Northern Ireland designed to help everyone increase their level of daily exercise and avoid heart disease and stroke.
There is one Highway to Health walking route in Lisburn City Centre and another at the Lagan Valley Hospital, all marked out with distinctive yellow and blue signs.
Vanessa Elder from NI Chest Heart and Stroke, said: This is the perfect time of year for everyone to take steps to improve their heart health — and walking is one of the best forms of exercise. It's not strenuous, it doesn't cost anything, and — thanks to Highway to Health — it's right on your doorstep."
Highway to Health booklets showing all 70 routes across Northern Ireland are available from your local branch of Bank of Ireland, the local council and can be viewed at www.nichs.org.uk.
The walks are suitable for people of all levels of physical fitness, although if you are unused to exercise, are overweight or have heart disease, you should first take your doctor's advice about how to build up your daily level of activity.
Ulster Star
11/03/2011