Hillsborough ready for biggest and best Oyster Festival yet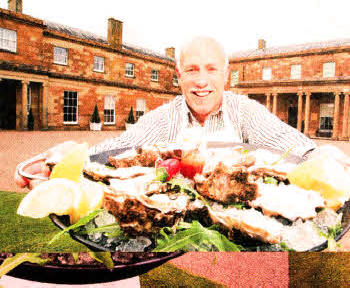 World oyster eating record holder Colin Shirlow launches the 19th Hillsborough International Oyster Festival. Pic by Darren Kidd/Presseye.com
THE internationally acclaimed Hillsborough Oyster Festival is gearing up for a record-breaking 19th consecutive year.
It will be taking place from September I-4 in the historic village, in association with SERE Motors.
The organisers say this year's Festival will be the biggest yet with a bumper line-up of activities planned over the four-day period with the RNLI as the nominated charity for 2011. Festival Chairman Sean Hall said: "The Hillsborough International Oyster Festival is now one of Northern Ireland's most celebrated and established events as we welcome visitors from across the UK and further afield.
"We've put together an incredible feast of live entertainment, gourmet food and wine and, of course, oysters.
"When I came up with the idea for this Festival all that time ago I couldn't have imagined that 19 years later it would have become such and important and much-anticipated date on the Northern Ireland community calendar. Its success is down to the organising committee, all of them volunteers, to the residents of Hillsborough and to our sponsors, together they've made it all possible."
The 19th Festival commences on Thursday 1st September with the Miss Oyster Pearl competition and a Viva La Glam fashion event showcasing fashion as well as the latest hair trends and make-up. Meanwhile in Hillsborough Forest Park the Iron Oyster Challenge commences with teams competing in various outdoor pursuits to be crowned champions. Also on the opening day, heats of the World Oyster Eating Championship get underway with winners going through to the grand final on Saturday.
A 'Pirates of the Caribbean' themed gala ball will take centre stage on Friday in the Festival marquee while on Saturday the village will become pedestrianised with a gourmet and craft market and a soapbox derby, racing through the course at high speed entertaining spectators.
The main spectacle of the day will be the World Oyster Eating Championship, seeing entrants from across the globe taking part.
Dromore man Colin Shirlow, current holder of the Guinness World Record for oyster eating since 2003 - eating 233 oysters m three minutes, will take part in this year's competition aiming to break his world record. The fun continues late into the evening with the village coming alive as it's many pubs and eateries host events coupled with a bbq, live music and DJs entertaining revellers in the festival marquee.
The four-day festival comes to a close with the Hollybrook Super Dream Car Sunday.
A collection of Porsche, Ferrari, Aston Martin, classic cars and rally cars will descend on the town giving the crowds the opportunity to see and get aboard these sought-after models. Information for all events during the Festival is available from www.hillsboroughoysterfestival.com.
Ulster Star
05/08/2011