THE WALK OF HOPE
Locals don bight colours in fundraiser for special girl
by STACEY HEANEY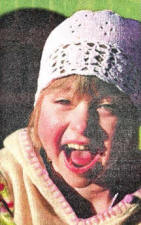 LOCAL people will join forces tomorrow night (Saturday) for a colourful fundraiser for a little Lisburn girl, as they walk around the city for four-year-old Hope Hillis. They will walk approximately five miles from the Supervalu car park on the Knockmore Road and around the city via Sprucefield at 11pm, with participants wearing bright fluorescent clothing and neon face paints in a colourful parade.
The Walk for Hope is aiming to raise money for a special new wheelchair for Hope to allow her to integrate more easily with family life, as well as raising funds for the Paul Ward at the Royal Belfast Hospital for Sick Children where she has spent much of her life.
Hope was born prematurely at 24 weeks and has suffered many complications since, having had around 50 surgeries so far.
The Parkview Nursery School pupil still spends each night in the care of staff at the hospital, and her mum Sarah has organised the sponsored walk as a way to thank them for all they have done for Hope, as well as funding for a much-needed new wheelchair to the little girl, which is lighter than her current chair and will allow easier access to transport her meaning she can go out more often with her family.
Sarah explained: "Hope was born in the Royal at 24 weeks and spent three or four months in the neonatal unit there. She has had a lot of problems with her brain and has had a lot of surgery.
"Hope is an in-patient at the hospital each night, she still sleeps there as she becomes hypothermic and stops breathing. They are trying to sort it out to make it safe for her to come home, but we can never be too far away from the hospital.
"She loves it there and each one of the nurses are like her 'mummies'. She says each night, 'we're going to Hope's home now'."
Sarah said that funds raised from the walk will allow her and her husband Sam and their other two children Luke, 11 and 1mogen, 19 months, to have Hope with them more easily.
Sarah said: "We are hoping to raise as much as possible. The wheelchair is £700 and anything over that will go to the ward. Hope has a very large wheelchair provided by the Trust to transport her to and from school, it is very big and heavy and I can't lift it so if I'm just going into town I can't take Hope. The new chair is smaller and more compact and will allow her to be more part of things, instead of being left out. It will bring her back to family life a bit more."
She added: "We decided to make the walk bright and colourful and be a bit silly with it, all the kids doing it have got neon face paints and we'll be wearing bright colours and fluorescents. There are 25 people so far, but there are more everyday. "I'd like to thank the people taking part and to thank all the staff at the Royal Belfast Hospital for Sick Children, especially those on the Paul Ward, they are brilliant, really fantastic and I can't fault the hospital at all."
Anyone who would like to join in with the sponsored walk can still do so, or if you would like to make a donation toward the appeal email Sarah at keepsmiling.sarah@googlemail.com or telephone 07736467588.
stacey.heaney@ulsterstar.co.uk
Ulster Star
15/04/2011