Hot Rods return to action at Nuttscorner Oval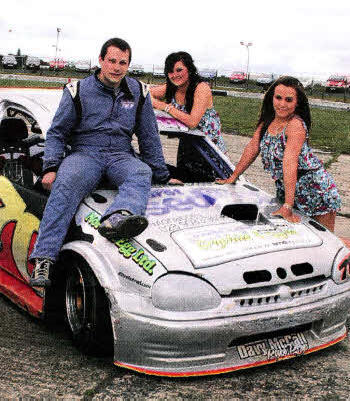 Recently crowned National Champion Shane Murray of Randalstown, seen here with Nuttscorner girls Paula Currie and Haley Bevan, will be a top contender for the World Championship at Nuttscorner Oval on July 23/24
THE countdown is well and truly on to the biggest event in the Ulster Short Oval Racing calendar - the 2011 2 Litre Hot Rods World Championship and Speedweekend at Nuttscorner Oval on Saturday and Sunday July 23/24.
The cream of the oval racing scene will be in attendance over the weekend, with over 30 action packed races scheduled for across the 2 days of racing.
English driver Jason Wilks has already signalled his intention to defend the crown he won in great style at Ipswich last year, and he could well be a favourite to make it two in a row.
Brighton based lady racer Samantha Holland is also making the trip, and is a tough challenger on all the ovals such is her superb car control. More visiting entries will be confirmed nearer the event itself, whilst the local drivers will be keen to keep the gold roof on home soil.
Randalstown's Shane Murray recently won the National Championship at Ipswich after a terrific scrap with World Champ Wilks, and is a certain contender, as is '08 and '09 World title holder, Wayne Woolsey of Portadown. Woolsey has been on excellent form of late, and will surely bid for his third World win, while Irish champion Derek Martin from Dungannon most certainly also has the pace to lead himself to the coveted crown.
Also on the massive Speedweekend schedule will be the Lightning Rods 2011 British Championship, where Antrim's Stephen Emerson will aim to defend the crown he won at Arena Essex last year.
More visiting drivers are expected for this one too, and that will also be the case when the budget contact formula the ProStocks contest their Irish Open Championship, which is currently held by Dungannon's Ryan Abernethy.
A full support programme is on offer over the weekend, with the super fast National Hot Rods contesting a 2012 World Championship qualifier, whilst the crowd pleasing National Bangers will smash their way to the King of Krash title. Also on show will be the Junior Productions featuring the stars of tomorrow and the enjoyable three wheeler Reliant Robins.
Nuttscorner Oval's Darren Black was full of enthusiasm for the upcoming weekend. "This year's event is shaping up really well. It's a real feather in our cap to be staging the World Championship for the 2.0 Hot Rods, and it will see a top quality field in action. Then we also have a host of visitors in the Lightning Rods British Championship and the ProStocks Irish Open. With upwards of 200 cars in action over the weekend, and 34 races, this is the pinnacle of the short oval season in Northern Ireland."
All the latest details on the event can be found on the website at www.nuttscorneroval.com
Recently crowned National Champion Shane Murray of Randalstown, seen here with Nuttscorner girls Paula Currie and Haley Bevan, will be a top contender for the World Championship at Nuttscorner Oval on July 23/24
Ulster Star
22/07/2011