Friends' and Hunterhouse pupils explore human rights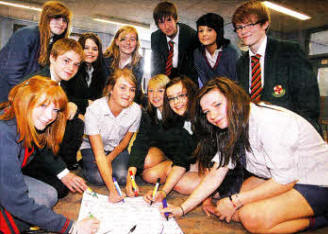 Pupils from Friends' School and Hunterhouse College taking part in Human Rights Workshop run by 'Change Makers'. US2511 107A0
A COLLABORATION between Friends' School, Hunterhouse College and the Belfast based project 'Change Makers' has resulted in a Year 10 workshop recently exploring Human Rights.
The collaboration has also led to the introduction of several Community Relations programmes within both schools.
The one-day Human Rights workshop was arranged by Dr. Christina Martin from Hunterhouse College and Alison Dougherty from Change Makers, and hosted at Hunterhouse. The young people explored their Human Rights, looking specifically at their right to education, and the rights of other young people in different countries to an education. They also focused on the responsibilities that come with having human rights.
'Change Makers' are also delivering OCN (Open College Network) accredited courses within both Friends and Hunterhouse. Young people are taking part in 'Understanding Diversity in Our Society', a Community Relations course looking at identity, diversity, assumptions, stereotypes and discrimination, tolerance and prejudice, identity in Northern Ireland, flags and symbols in Northern Ireland, celebrating difference, advantages of living in a diverse society, and the future in Northern Ireland.
Alison Dougherty is the Change Makers staff member working with Hunterhouse and she said she was delighted at how the school has embraced the project and welcomed her to work with the whole school community.
She said: "There is a great collaboration between Hunterhouse College and Change Makers. Dr. Martin has welcomed our project and given me great support.
"Together, we are working to develop and embed community relations models within the school culture. This three-year project will work with the pupils, the teachers and other school staff to provide opportunities for personal development; develop confidence and leadership skills; explore the impact of living in a divided society; and develop community relations practice as a valid and important issue within the school setting.
"We are off to a fantastic start, and hope to continue this positive work over the next few years, building relationships within the school and also between Hunterhouse and the other schools taking part in the project: This joint workshop with Friends is hopefully the first of many combined pieces of work." Dr. Martin said: "Our pupils are very open to debate and change and really benefit from this type of active learning. Meeting pupils from other schools helps them to develop their self confidence and their whole potential, while enjoying themselves."
The schools involved in the Change Makers project are Harmony Hill Primary, St. Aloysius Primary, St. Joseph's Primary, Crumlin Integrated College, Fort Hill Integrated College, Friends, Hunterhouse, Lisnagarvey High, Malone College, Priory Integrated College, St. Colm's High, St. Louise's College and St. Patrick's Academy.
Ulster Star
29/07/2011