`In our hour of need, an angel helped us through'
by MARY MAGEE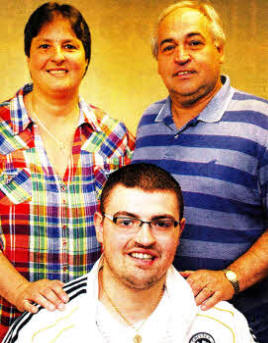 A SAINTFIELD man whose son cheated death four times after an horrific car accident, and believes he was visited by an angel in his hour of need, has published a book about his immovable faith and his experiences through one of the most devastating times of his life.
'Angels Watching Over Me' by Jim Stewart tells the remarkable story of how his 17year-old son James, a young man with a promising footballing career in the Irish League, survived against all the odds after dying three times at the scene of the accident in Crossgar in June 30, 2007.
James, who worked as a specialist lead fitter, was travelling as a front seat passenger in a Honda CRX car to a garage to get snacks after a party at around 8am that Saturday morning.
While the driver escaped with just a scrape to the head James, who had been wearing his seatbelt, was not so lucky. He had to be resuscitated at the scene by paramedics three times. He suffered severe brain injury to four different parts of his brain, as well as a brain stem injury and a brain hemorrhage, with blood escaping from the only place available - his right eye.
He also sustained a broken neck in two places as well as a broken back, a broken jaw, smashed cheekbone, broken upper palate and a broken nose. He had a severed artery in his cheek which almost caused him to bleed to death at the scene. James also had a severe wound to the back of his head and numerous other injuries to his upper body including collapsed lung, a torn oesophagus and extensive facial swelling and bruising.
He was so badly injured the paramedics at the scene, who were members of Ballynahinch Baptist, the same church his parents Jim and Jennifer attended, did not recognise him.
Jim and Jennifer spent weeks by his bedside in intensive care at the Royal Victoria Hospital praying that he would get better. He was so unrecognisable that Jim had to put a picture of his son next to him to remind him what he looked like.
"It was such an horrific time for us," said Jim. "We were told he was not expected to live beyond the next 24 hours then the next 48 hours. But he kept going and kept surprising us. When we got through the fifth day the neurosurgeon said that due to the complications he had only two hours to live and asked us to gather the whole family round to come to say their last goodbyes.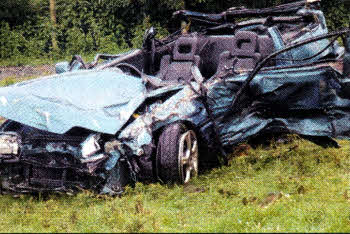 "We discussed organ donations and funeral arrangements. We were totally crushed. We just did not know what to do. It was just devastating for us."
Against all the odds he again survived and after many weeks in intensive care was well enough to be transferred to Musgrave for many months of rehabilitation and by January 2008 he was allowed home.
It was during this traumatic time Jim feels that he received a visit from the unlikeliest of sources...an angel.
Two days after the accident Jennifer and Jim were walking past the waiting room of the intensive care when his wife remarked on a man who she had seen looking at Jim. He wore a black suit, black tie and coloured shoes. For fear of appearing rude and believing that he maybe there to inquire about James, Jim returned to the waiting room to greet him but he had disappeared.
Two days later, as James' condition deteriorated, Jennifer and Jim went to the parents' room of the hospital to pray. They got as far as the door when a man's hands stopped them. It was the stranger from two days previous waiting in the same seat wearing the same clothes.
"He asked was I Jim and when I said I was, I said sorry I do not know you?" said Jim. "He said I wouldn't know him but he was visiting someone in intensive care and that I would know the person he was there to see."
He asked if he could pray with them and when they did both Jennifer and Jim felt at peace. The stranger started to tell Jim things that no-one else would know. He pretended to strum a guitar and told Jim he had been in a band 40 years before. He was able to tell him about his Sunday School teacher and things that he did when he was a seven year old boy when he became a Christian.
"He told me everything in unbelievable detail," said Jim.
"I kept asking him, 'did I grow up with you or something' but he didn't answer. He then handed a verse of a scripture and walked away.
"There's a buzzer system in intensive care and not everyone can come in and out of the place as they please, It is very strict. You have to be let in and out of the place and when I asked the nurse who the man was she said we were the only people to have come through the doors in the past 30 minutes.
"We never saw him again and no-one ever knew he was. The only people who saw him were Jennifer and me."
Tragically, 11 weeks after James' accident the Stewart family received more devastating news. Their 14 year old niece Adele Whiteside was knocked down and killed returning from a wedding in Finaghy.
"The affect that had on all of us was just devastating," said Jim. "I had to go and identify the body and it was just a horrendous time in our lives. My daughter and Adele were so close and my daughter took it very badly.
"I don't know how I got through it all but I knew I had in some way had to keep it together. I don't know how."
It has taken Jim three years to write the book which he got printed himself. All proceeds of the book, which are available in the Faith Mission Bookshop, will to go the Headway charity.
The book is dedicated to one of their closest friends Joan Baird, who died of cancer at the age of 48. Joan, from the Glenavy Road, Lisburn was one of the first people to visit the family in hospital.
Jim, who gave up work as a private investigator to give his son the 24 hour care that he needs, said he hopes the book will give hope to others.
"When I have given it to anyone they have been in floods of tears," he said. "I wanted it to highlight the emotions that families go through.
"James still suffers brain damage, he has short term memory, he is semi paralysed down one side of his body and suffers poor balance and can only walk with the aid of a stick, but while people left him for dead he survived against all the odds,"
Donations to Headway and more details about the charity can be got by contacting info.belffast@headwayni.org
Headway, the brain injury association web site https://www.headwayni.org.
Ulster Star
24/06/2011