How Jean's experience of cancer persuaded her to live her dream
by JENNY MONROE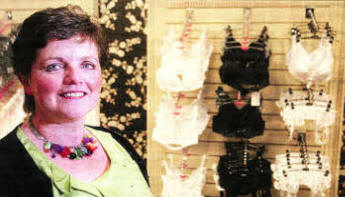 Jean in Azizi Lingerie in The House of Vic Ryn on the Moira Road. US3211-121AO
A FORMER nurse who battled breast cancer has put her experience to good use and opened up a lingerie boutique in Lisburn which includes a special range of mastectomy wear.
Jean McCracken was diagnosed with breast cancer in June 2009 and had a mastectomy nine days later. Two years on and she has left the nursing profession - after 32 years - and opened Azizi Lingerie within The House of Vic Ryn on the Moira Road.
The mother of three sons had toyed with the idea of running a lingerie store years ago but found the obstacles of running a business got in the way so she didn't follow it up.
However the journey she went on during her battle with cancer inspired her to realise her dream to help others.
Jean said: "I had a difficult experience trying to buy a bra after surgery and that's when I felt that it was the perfect time for me to open up my own lingerie boutique where people could come in and feel special, no matter what their circumstances."
After her chemotherapy and radiotherapy treatment finished at Christmas 2009 Jean signed up to the Go For It programme and then made contact with lingerie reps. She contacted Vic Ryn as she liked the firm's ethos and knew the rent would be going towards supporting charities.
"It all fell into place and we had the official opening in June. It's just been an incredible journey. I went through a storm to strengthen me for a reason," she said.
Talking about the business Jean explained that as well as offering a unique and personal fitting service for mastectomy wear - nursing bras, sports bras and bridal lingerie are stocked too with stockings, night wear, hosiery, swim wear, shapewear, men's underwear and designer umbrellas available.
"We will be holding special mastectomy and nursing bra fitting days once a month and this is something we are finding very popular with our clients," said Jean, who wanted her boutique to have a luxurious feel about it. "First impressions are important. We have put a lot of thought into it all."
Jean says she feels she is living her dream. "I actually know I am making a difference. It's incredible. Words aren't enough to describe how I am feeling. Women put up with things when they don't need to. Lingerie is a bit like life. If you get the foundations right everything else looks so much better.
We are here to make a difference and it's great being able to offer a better range of bras to women post surgery and to tell them that the mastectomy bras are VAT exempt - this is something that a lot of people aren't aware of."
Jean explained the name of the boutique: 'Azizi is a Hebrew girl's name meaning precious or beloved. Everyone who comes through the door is precious. Making them feel comfortable and taking barriers down is important to us, It is an intimate thing fitting women and we want to put them at their ease. Encouraging them to feel good about themselves is key and I want women to know their value and worth."
Ulster Star
19/08/2011