Extraordinary challenge in memory of John
Two men, two cycles and four marathons in just eight days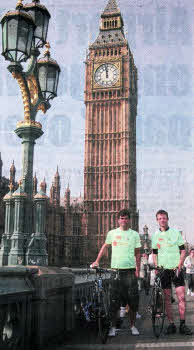 Moira man Gareth Crockett (left) and Jez Davison, who will be undertaking a marathon and cycling challenge from Northern lreland to London in aid of Leukaemia and Lymphoma research.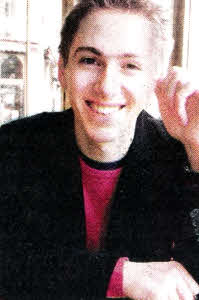 MOIRA man Gareth Crockett and his friend Jez Davison will begin an extreme challenge this weekend when they will take part in four marathons in four different locations, cycling to each venue and finishing by taking part in the London Marathon on Sunday April 17.
The extraordinary challenge is being undertaken in memory of their friend John Erwin, who passed away in May last year.
26-year-old John, who was also from Moira, had been diagnosed with Leukaemia just the month before. Gareth, who grew up next door to John and attended Primary School with him, and Jez, a friend from John's university days in London, are aiming to raise £10,000 for Leukaemia and Lymphoma research through their extreme challenge.
The pair have already been pledged £7,300 with the total rising by the day, and are busy training for the challenge which begins in Gareth and John's home village on Sunday.
Gareth explained: "John and I grew up together in Moira. We lived next door to each other, our sisters were the same age, we went to the primary school together so we were very close. John went to Friends' and I went to Wallace and he then went to the London School of Economics and I went to university in England as well. We were still friends throughout that time. John met loads of friends at college and one of them was Jez, the other guy taking part in the challenge with me.
"John was big into cycling, he loved the Tour de France and in 2005 he went on a solo cycle through France. He and I then did Paris to Barcelona in April 2009. During that trip Jez was on holiday in Carcassonne and we stopped in at his villa. That was the first time I met Jez. The next time I met him was at John's funeral in May last year. John was diagnosed with Leukaemia in April and a month after the diagnosis he died. A few days later at the funeral I got chatting to Jez, who was in training for his first marathon in Edinburgh and I was training for my first marathon in Norway. We suggested that we do something and after a lot of to-ing and fro-ing we came up with this."
Gareth and Jez will complete a 26.2 mile marathon in Moira before cycling to Dublin, where they will run another marathon. The pair will then cycle from Holyhead to Bristol (where Gareth was at college), taking on a marathon there followed by a cycle to London, where they will run the Virgin London Marathon, all within eight days.
John's illness and passing has had an affect on each of his many friends, with fellow Friends' pupil Andrew Emerson also having completed a half marathon last year for Leukaemia and Lymphoma research.
Speaking about his thoughts on the gruelling challenge, Gareth said: "I'm a bit nervous. I'm looking forward to it and dreading it in equal measure. A marathon is tough, but that's maybe three, four or five hours, this is eight days long, once we do one, we've got another seven days to go, it will be tough."
He concluded: 'John's friends and family have been wonderful, they've been very supportive of what we're doing and I'm glad we've got their blessing for doing it."
To donate to Gareth and Jez's challenge in John's memory log on to https://justgiving.com/beldonchallenge. For further information on Leukaemia & Lymphoma research visit https://beatbloodcancers.org/about-us.
stacey.heaney@ulsterstar.co.uk
Ulster Star
08/04/2011