Proposed regional development plan
'could be death knell for John Lewis'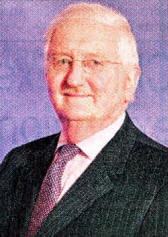 A NEW Executive document on regional development could spell 'the death knell' for the proposed John Lewis development at Sprucefield, the chairman of Lisburn City Council's Planning Committee has claimed.
Councillor Ronnie Crawford says the Draft Revised Review of Regional Development Strategy includes a statement to "enhance the role of Belfast City Centre" and one of the consultation questions asked is 'do you agree that Sprucefield should continue to be classified as a regional out of town shopping centre?'
Mr Crawford said the questioning of the status of Sprucefield could be "devastating."
He went on: "This document produced by the Northern Ireland Assembly Executive makes very worrying reading indeed for Lisburn ratepayers and could spell the death knell of the proposed John Lewis store at Sprucefield.
"This document seems to be another declaration of war on the Lisburn ratepayer and exposes the enmity of the Northern Ireland Executive and a Belfast dominated Civil Service to the economic aspirations of the people of Lisburn.
"Will Sprucefield be added to the Executive's list of shame of the loss of the National Stadium and the failure to develop the Maze site, the pulling of funding on the Basketball Centre of Excellence and the binning of the Bain Report which ensures that Belfast, with 13% of our population, retains 60% of public service jobs?
"Our Council will be submitting a response to this document but it is important that vast numbers of our ratepayers also respond robustly."
Ulster Star
25/02/2011