ON TOP OF THE WORLD
Joy overcomes two brain haemorrhages and a stroke to become world powerlifting champion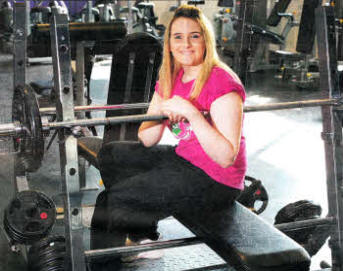 Powerlifting champ Joy Fleming
A YOUNG woman from Glenavy has beaten all the odds to become World Powerlifting Champion despite suffering from two brain haemorrhages and a stroke. 20-year-old Joy Fleming, a former European Powerlifting Champ, learned to walk and talk again three years ago before going on to gain the coveted title.
Joy, whose ambition was always was to become a world champion sportsperson, got interested in the sport - with the help of her uncle - when she was a student at Hunterhouse College. When she took up powerlifting she discovered that not only was she good at it, she really loved it.
In 2008 she was the reigning European Champion for her weight (63kg) and was due to represent Northern Ireland at the World Championships in Indianapolis. However her dreams were shattered while playing hockey. One day, without any warning, she collapsed on the pitch.
`You are not brave or any way special, you just get on with things.'
She was psyched up after scoring a goal five minutes into the second half when her legs gave way and she fainted.
When she was taken to hospital and doctors discovered she had suffered a brain haemorrhage and said they would have to operate.
During the operation on her brain she took another haemorrhage which led to a stroke. Joy's distraught parents feared she may not survive.
She was diagnosed with AVM or Arteriovenus Malformation, an abnormal connection between veins and arteries which is usually congenital, and was told she would have to decide between open brain surgery or radiosurgery which would be done in Sheffield. She chose the latter.
Before her journey she had to learn how to walk and talk again, but she was given further devastating news - she would never be able to Powerlift again.
With incredible determination Joy learned to walk and talk again and in 2009 was fit enough to travel to Sheffield for radiosurgery.
She was given hope too when she was told she would be able to powerlift again - news that was to be a turning point in her life.
Joy, while returning to training as a powerlifter, decided to make a fresh start and enrolled at South Eastern Regional College (SERC) on a two year BTEC National Diploma in Sport.
She finished her first year with a straight distinction profile and passed her course with the highest possible results - the equivalent to three grade A's at A-level. During which she also passed her driving test. Her next step is to go onto university - even though her next ambition is to become a fire-fighter and help save people's lives.
After missing out on the World Championships in the USA in 2008, Joy also went back to powerlifting.
Within two years she was back on top of her game - she qualified for the 2010 World Championships which were held in Castleblaney in November - and came away with the title of 'World Champion' for her weight class. Joy who had been training for a year and a half at Bear Cave gym in Belfast said that it was the ultimate thing to win. She explained: "No matter what people told me I was determined that I would powerlift again one day.
"When I first got out of hospital I was so embarrassed because I was put on a zimmer frame. I said I wouldn't use it - my granda was using one for goodness sake. I only used it for a few weeks when I really had to before I got onto the crutches and eventually got myself better, "You are not brave or any way special, you just get on with things. When anyone asks how did I got through my surgery I just say 'what else was I expected to do?
"There were times that I got very frustrated with myself. At the time of my illness I could have been going to the power lifting world championship in America and instead I was barely able to walk up the stairs.
"When I was told I would not power lift again I was upset at first but I had it in the back of my mind once I got better again I would power lift. My first aim was to get better and stronger but I knew that I would power lift again."
mary.magee@ulsterstar.co.uk
Ulster Star
19/08/2011