Husband pays moving tribute to Lisburn quake victim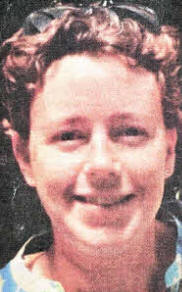 THE husband of a Lisburn woman killed in the New Zealand earthquake paid a moving tribute to his wife at a special memorial service on Sunday.
David Wong told a packed Lowe Memorial Presbyterian Church in Finaghy how he misses his wife Julie Wong.
Julie, a dedicated Christian, had been living in New Zealand with David and their four-year-old son Ethan for five years when the quake struck in Christchurch in February, killing almost 200 people.
Her parents Robin and Eunice Johnston waited for nearly three weeks back home, before police found the 37-year-old's body in the wreckage.
In his tribute, read by Ossie McAuley, a ministry assistant at Lowe Memorial, David spoke of his wife's "unconditional and selfless love".
He said: "She was always there and she thought of Ethan.
"I only had 10 years with her, but it feels like she gave me enough love for a lifetime. I hope that love will remain in me so I can pass on to Ethan even just a shadow of the love she had for him."
David added that it is still painful when he thinks of Julie, whom he met at church while both were living in London in 2000, before marrying two years later.
The couple decided to relocate from London to New Zealand to enjoy a slower pace and spend more time together.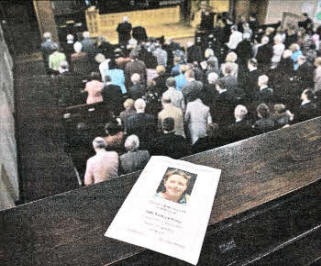 The service of Thanksgiving in memory of Julie Wong at Lowe Presbyterian Church in Finaghy. Photo Colm Lenaghan Pacemaker Press.
"Julie wanted to be in a place where we could see each other, see friends, be part of a church and raise a family," David explained.
"Without her, I would still be living in London - successful and well-off - but hating it. It's thanks to Julie that Tm here and have an incredible church and incredible friends around me. I'm not rich, but that's the right trade-off and I'm glad I made it."
Last week Lowe Memorial, where Julie was a member for many years before she emigrated, announced it is to establish a relief fund in her name to assist the churches in Christchurch support their members and rebuild their work and witness.
Lowe's minister, the Rev James Burnett, attended Julie's funeral in Christchurch and said he was shocked by the devastation.
More information can be found on the Lowe website at www.loweonline.org, together with details of how individuals can donate.
"When I spoke at Julie's funeral service in Christchurch I said it is our prayer that God will heal your city and bring a blessing of hope and revival like you have never seen before," added Rev Burnett. "Maybe, through this fund in Julie's memory we can be part of their healing and future blessing."
Ulster Star
22/04/2011