Lisburn athletes compete in World Summer Games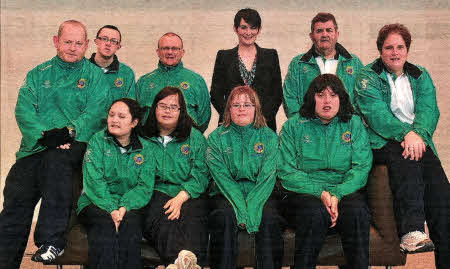 Team Ireland athletes from Co. Antrim, Oliver Magee, William McBride, Roy Surplus, Peter McCord, Pauline Connell, Una McGarry, Barbara Norris, Carole Catling, Jacqueline Gault, with Carolan Lennon, Chief Commercial Officer eircom, at the launch of Team Ireland to participate at the 2011 Special Olympics World Summer Games in Athens- Pic by David Maher/Sportsfile.
THREE Lisburn athletes have been selected to represent Ireland at the 2011 Special Olympics World Summer Games in Athens.
It wiIl be the biggest sporting event worldwide taking place rn 2011 with 7,500 athletes from 185 nations competing in 22 Olympic-style sports.
Bocce champion Oliver Magee has already enjoyed medal success, winning three golds at the 2010 Special Olympics Ireland Games, and is hoping to repeat this success in Athens. This is the first time Oliver has represented Ireland at international level and he is looking forward to the competition in Greece.
Pauline Connell, also from Lisburn, will compete in the gymnastics competition, and says the opportunity to compete in Athens, the home of the Olympics, is an experience that she is really looking forward to.
Lisburn's Peter McCord has been selected to compete in the eagerly contested football competition. Football fan Peter says that he is looking forward to travelling to Athens and meeting other athletes from around the world.
With just under 100 days to go before the Games, all three athletes have already started their training and preparation for Athens.
Team Ireland is made up of 126 athletes, 29 of whom are from Ulster. They will compete in 12 sports over the duration of the Games and will be supported by a team of 49 coaches and official delegates.
Oliver, Pauline and Peter are also calling on the local community to support Special Olympics by volunteering on Special Olympics Collection Day and donating generously to help Special Olympics Ireland achieve its '1 million in 1 day' fundraising target.
The Special Olympics Collection Day takes place on Friday April 15 with collections taking place at locations throughout Northern Ireland and the Republic of Ireland.
This year Collection Day was launched by former Ulster and Ireland ruby star Simon Best who said: Special Olympics is a great sporting organisation which demonstrates the transformational power of sport and the joy that all athletes can experience by participating, at whatever level. I urge everyone to support us on Collection Day so that we can raise as much money as possible to support our local Special Olympics Clubs."
stacey.heaneY@utsterstar.co.uk
Ulster Star
01/04/2011