Lisburn cadets master water survival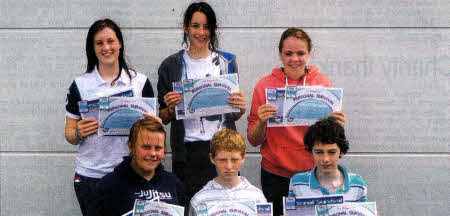 Lisburn Cadets with their certificates
A TEAM of six 'Lisburn Cadets successfully completed Personal Survival and Water Rescue training at Menin Gate Leisure Centre on Thiepval Garrison recently.
The cadets trained intensively for a number of weeks under the resident Swimming Specialist Instructional Officer as part of a beat up to final assessments resulting in Level 1 & 2 Amateur Swimming Association awards.
The Training Officer from Lisburn Sea Cadets, Petty Officer (SCC) Stuart Christy explained: Our young people live, learn and play in the Lagan Valley area and beyond, they are exposed to the dangers of open water often.
"This present package of training not only empowers our Cadets to handle themselves in adverse circumstances but also to assist others in need. We are grateful to Thiepval Garrison for their vociferous support and assistance in helping make Lagan Valley safer."
| | |
| --- | --- |
| | |
| Lisburn Cadets using the Heat Exposure Lessening Position with a life jacket for floatation | Lisburn Sea Cadets move into position for HUDDLE position assessment |
From 817 (Lisburn) Squadron of the Air Training Corps; First Class Cadet C. Boyle and Cadet Corporal E. Hassard passed whilst valuably displaying excellent team work and initiative.
Cadet Boyle said of the experience: "Being an Air Cadet, the opportunity does not arise very often to take part in a water based activity. This was a pleasurable and useful activity and it was good to see how the Sea Cadets operate."
From Lisburn Sea Cadets, Ordinary Cadets R. Johnson, A. Fitzhenry, L. Fitzhenry and E. Johnston proved their mettle in the water where the teamwork, initiative and tenacity expected of all cadets was also evident.
Ordinary Cadet Johnson remarked: "Cadets of all branches are encouraged to train to the highest standards in First Aid, but where water is involved, we need to safely get the casualty onto dry land before being able to apply it."
The combined team will now set their sights on completing the internationally respected and highly coveted Bronze Medallion award accredited by the Royal Life Saving Society through July and August to progress their skills and add value to their civic role within the local community.
Ulster Star
08/07/2011