City Festival to focus on local history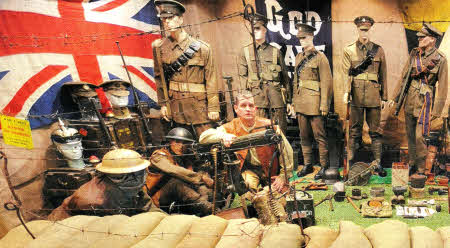 Davy McCallion at a War Years Remembered WW1 display in Lisburn last year.
THE importance of Lisburn's rich history is set to play a central role in this Saturday's first ever Lisburn City Fest.
The festival is the culmination of the 'Proud to be Part of Lisburn' project which has brought people together to learn new skills in music, photography and history.
The Castle Chambers Building will play host to a series of talks between 1 and 5pm, focusing on the early and modern history of Lisburn. The location, on the corner of Railway Street and Castle Street, is itself surrounded by Lisburn's rich architectural past, minutes from the. Railway Station dating back to 1839 and the 17th century Market House, which now houses the Irish Linen Centre and Museum.
John Bradbury will present 15 minute talks each hour on the Early History of Lisburn, the Linen Industry in Lisburn, and Important Citizens of Lisburn. The talks will be accompanied by a presentation of photographs.
John said: "The early history will concentrate on the plantation and the early development of the city. I will talk about the importance of linen and industrialisation in the Lagan Valley area and round things off by talking about a wide variety of philanthropists, business people, sports personalities and other people who have played a part in moulding Lisburn."
Castle Chambers also hosts a travelling 'Home Front' museum presented by David McCallion of War Years Remembered. This year is the 70th anniversary of the Belfast Blitz and the interactive and popular display will showcase various items from the WW2 period including items from the munitions factories, uniforms and household items. The talks and exhibition will coincide with a family focused festival in Castle Gardens. Music and a range of free activities will take place there from 12 midday including children's amusements, face painters, drum and dance workshops, entertainers, lots of music and food stalls.
Councillor Margaret Tolerton, Deputy Chair of the Lisburn & Castlereagh Peace III Partnership which funds the initiative, said, "This project aims to bring local communities together, to build capacity for dialogue and celebrate a more inclusive and tolerant society for everyone. The Lisburn City Fest will not only show what working together can help to achieve but also create a fun family day out, with good music in the shared spaces of Lisburn City Centre."
Ulster Star
24/06/2011