Lisburn couple to scale new heights for charity
by JULIE-ANN SPENCE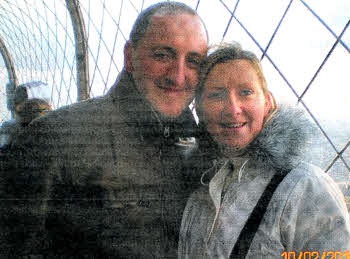 Neil McNickle and his partner Bernie McKeown, who will be climbing Mount Kilimanjaro for charity
A LISBURN couple will be scaling new heights for charity next year when they climb one of the world's highest mountains. Neil McNickle and his partner Bernie McKeown will be climbing Mount Kilimanjaro in November next year in aid of the Ulster Cancer Foundation and have already begun their training for the mountainous charity effort.
Neil and Bernie will be using the less travelled Machame Route. Our path takes us from the base of this huge dormant volcano, over moorland and rocky trails to the glaciers at the summit," explained Neil. "This route gives trekkers the most intoxicating views and as it is slightly longer, it allows greater time for acclimatisation, thus increasing the chances of summit success."
They decided to embark on the challenge because both of their lives have been touched by cancer.
"We both have had friends who have developed cancer and we felt we would like to do something to help," continued Neil. "The idea for Kilimanjaro was that just as cancer patients overcome huge challenges it was only fitting that we really push ourselves too."
Although there is over a year to go until the climb, the couple have already begun training and are also planning a host of fundraising events over the next year.
"As far as training goes, we are beginning this week with Donard and gradually building up over the next year and covering the various peaks throughout the UK," Neil added.
The couple are hoping to raise £10,000 for the local charity and have set up a website so that people can sponsor them. To support Neil and Bernie log onto www.justgiving.com/bernieandneil.
julieann.spence@ulsterstar.co.uk
Ulster Star
19/08/2011