Search is on to find the new Miss Northern Ireland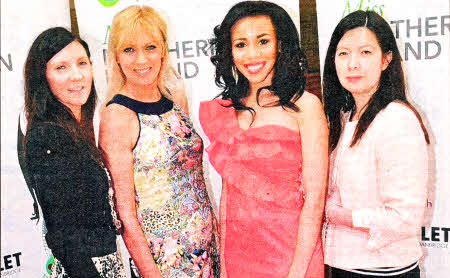 Left to right -at the launch of the Appletiser Miss Northern Ireland 2011 Contest Paula Colhoun, Appletiser Marketing Manager, Alison Campbell, Miss NI contest organiser, Lori Moore, Miss NI, Siobhan McKeown, marketing Manager, The Outlet, fashion sponsor.
THE search for the new 2011 Miss Northern Ireland has been launched and Lisburn ladies are encouraged to enter this year's competition.
It's 25 years since Alison Campbell ran her very first Miss Northern Ireland Contest and this year sees a new title sponsor, Appletiser, along with Fashion sponsor, The Outlet.
A heat will be held in Drumbo Park on Wednesday May 11.
The 26 finalists will enjoy a full weekend of VIP engagements and photocalls followed by the Gala Final at Belfast's Europa Hotel on Monday June 13 where all previous winners have been invited to a celebration extravaganza glitzy final event.
The winner will receive thousands of pounds worth of prizes including a brand new Kia car for the year from Downeys of Newtownards, insured by Open & Direct, a range of amazing evening wear from Beverley Hills, Gosh Cosmetics hamper and hairdressing from stylists at Michele International for the duration of her reign. The 2011 Appletiser Miss NI will also win an all expenses paid, month long trip representing Northern Ireland in this year's Miss World contest.
Event organiser Alison Campbell is looking for entrants aged between 17 and 24 years from all parts of Northern Ireland to take over the crown from current Miss NI Lori Moore.
She said: We need someone who has that extra special quality, the 'je ne sais quois', it takes more than good looks to win Miss Northern Ireland. The winner will need to carry out an extensive range of modelling and promotional assignments and be free to travel to the Miss World final later this year. It takes great stamina, commitment and confidence to carry off the title, and Lori Moore has been a wonderful ambassador this year. She has taken the role on with charm and determination, culminating in her winning the title of Miss World Sport in China, beating off stiff competition from the other 112 world finalists."
To enter girls should send a photograph with their name and address to the Appletiser Miss Northern Ireland Contest, 381 Beersbridge Road, Belfast, BT5 5DT. Competition rules can be checked out on the Miss NI website www.missnorthernireland.co.uk. It also outlines full details of the competition heats and the range of prizes available.
Ulster Star
04/03/2011